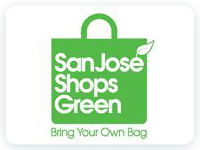 Remembering to bring a bag with you when you come to Elemental Wellness is an easy way to help the environment
San Jose, CA (PRWEB) March 29, 2012
On January 1st, San Jose became the largest city in California to ban single-use carryout bags. Elemental Wellness Center, a San Jose cannabis dispensary, supports the City's efforts to reduce plastic waste, and urges members to bring a reusable bag whenever they visit. And while the new ordinance requires merchants to charge 10¢ for each paper bag, Elemental Wellness will donate the fee to nonprofit organizations focused on creek and bay cleanup.
"Remembering to bring a bag with you when you come to Elemental Wellness is an easy way to help the environment," says Amanda Snyder, Manager of Member Services. "But if you forget, you'll still be doing good, because we donate the paper bag fee to environmental cleanup groups."
The San Jose marijuana dispensary will choose a different cleanup organization each month. "Most of us have heard of the Great Pacific Garbage Patch—a swirling mass of plastic debris that's twice the size of Texas, floating in the Pacific Ocean. This stuff ends up getting eaten by fish, which we, in turn, eat. This is a public health issue, and we want to support environmental groups in their cleanup efforts," says Snyder.
According to the City's environmental impact report, 500 million single-use plastic carryout bags were given away every year in San Jose—that's 1.4 bags per day for every single resident. Studies of litter cleanup efforts in San Jose indicate plastic bags make up as much as 23% of litter collected on beaches and in creeks. This is a serious problem, because studies show that when plastic breaks down it leaches cancer-causing toxins into our water supply. The new ban will reduce the number of plastic bags issued by 95%, resulting in a dramatic drop in the number of bags that clog storm drains and flow into the Bay.
While paper bags also have an environmental impact, they are less likely to end up as litter than plastic bags, are less harmful to wildlife, and biodegrade quicker. The new ordinance requires that paper shopping bags be made from a minimum of 40% recycled material, further reducing harm to the natural environment.
Reusable bags can replace up to 600 single-use plastic bags over their lifetime, and are available at many retailers for just a dollar or two.
"Get into the habit of keeping reusable bags by the door or in your car." suggests Snyder. "This simple act can make a huge difference."
For more information about the new ban on single-use carryout plastic bags in San Jose, visit http://www.sjrecycles.org/bags/.
For information about any of Elemental Wellness Center's products or services, call them at (408) 433-3344, view them on the web at elementalwellnesscenter.com, become a fan at facebook.com/elementalwellness or visit their collective located at 711 Charcot Avenue in San Jose.
About Elemental Wellness Center
Elemental Wellness Center is a state-of-the-art medical cannabis club in San Jose with an open, spa-like atmosphere; a warm, welcoming environment; and a highly trained, expert staff. The medicine is lab-tested to detect the presence of mold, mildew, and biological contaminants, as well as pesticides, and is analyzed for THC, CBD, and CBN potency. Elemental Wellness specializes in rare and boutique strains, and butane-free, oxygen extract hash, bubbles, melts, and waxes. The collective is dedicated to holistic healing of the mind, body and spirit, and has a healing room, community outreach center, library, and yoga studio, with all services and classes included free in the membership. Elemental Wellness is committed to giving back to members and the community, and has a fixed mark up on all their products. All profits go back into improving the collective or are donated to charity. With paintings and sculptures from local artists featured on its walls, this San Jose medical marijuana dispensary is a local hub for creative, healing energy. Elemental Wellness was voted best dispensary in northern California by WeedMaps.com, and won 2nd place in the High Times Medical Cannabis Cup in both 2010 and 2011 for its in-house strain, The True OG.