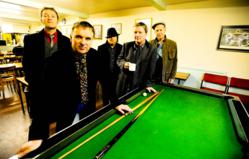 Napa, CA (PRWEB) March 30, 2012
Over 35 years later, with their legacy intact and as vital as it has ever been, Squeeze are still touring and reminding fans worldwide just why they have left such an indelible impression on the music scene. They are known for such hits as "Tempted," "Pulling Mussels From A Shell," "Cool For Cats" and "Goodbye Girl." Don't miss Squeeze plus Frontline at the Uptown Theatre Napa on Wednesday, April 18, 2012. Doors open at 7:00pm, show starts at 8:00pm.
As teenagers on the South London scene, Squeeze – setting out their stall early on by facetiously naming themselves after a poorly-received Velvet Underground album, and at the time also comprised of Jools Holland on keys, Harry Kakouli on bass and Paul Gunn on drums - became a fixture of the burgeoning New Wave movement. When Gilson Lavis replaced Gunn on drums everything seemed to fall into place, and word of mouth soon spread about the band - ironically, it was none other than Velvet Underground man John Cale who caught wind in 1977 and offered to produce their debut EP 'Packet Of Three' and much of the ensuing album.
Yet it was second album 'Cool For Cats', released in 1979, which cemented their place as one of Britain's most important young bands. Featuring the classic single 'Up The Junction' as well as the title track, it was many listeners' first introduction to the witty kitchen-sink lyricism and new-wave guitar music that has become the band's trademark. With albums 'Argybargy' and the Elvis Costello-produced 'East Side Story', Squeeze even started to make waves across the pond, although in 1980 former Roxy Music and Ace - and future Mike + The Mechanics – man Paul Carrack would replace Jools Holland, going on to lend his unmistakeable vocals to the smash hit 'Tempted'.
Tickets for Squeeze are $55. They are on sale now and can be purchased through the theatre website at http://www.uptowntheatrenapa.com, at Ticketmaster (http://www.ticketmaster.com) or at the theatre box office (please call 707.259.0123 ext. 6 for hours). To find out more, please visit http://www.uptowntheatrenapa.com.