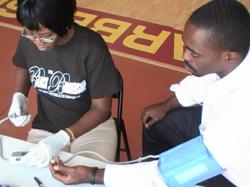 I've always wanted to be a doctor and now its a dream come true
Inglewood, California (PRWEB) March 29, 2012
Donte Kelly, a local barber, flew from Los Angeles International Airport to Cuba, where he has been enrolled at the Latin American School of Medicine in Havana to fulfill his lifelong dream of becoming a doctor.
Kelly rekindled his dream of attending medical school by working as the National Barbershop Coordinator of the Black Barbershop Health Outreach Program of Los Angeles. Kelly worked side-by-side with Founder Dr. Bill Releford, as well as others, and learned invaluable community organizing skills. A graduate of Grambling State University, Kelly was actually a pre-med student, earning an undergraduate degree in Biology. Several years later, at the age of 30, Kelly saw the real face of health care disparities while serving in the barbershop program. He organized more than 600 barbershops nationwide that screened over 20,000 men for diabetes and high blood pressure.
"The Black Barbershop Health Outreach Program provided the perfect platform for me to stay connected and focused on my destiny, to become a medical doctor," Mr. Kelly said. "It was just a matter of timing and finances. I embrace this rare opportunity to attend medical school tuition-free in Cuba. Although Cuba has limited resources, they've been able to produce some of best physicians in the world, and I am honored to have been selected for the 2011 Fall class."
"In addition to the national screening efforts, the Black Barbershop Health Outreach Program is known for, the initiative has also nurtured and helped to develop organizational, communication as well as leadership skills in African American men around the country," said Dr. Bill Releford, who launched the Black Barbershop Health Outreach Program in 2007.
Dr. Releford added, "The Black Barbershop family has been able to excavate and, in many instances, resurrect dormant dreams and life's possibilities." Mr. Kelly's admission into the Cuban medical school has enormous implications, as the ranks of black males in U.S. medical schools have declined. For three consecutive years (2005-2007), nearly two-thirds of black medical school applicants were women, according to the Association of American Medical Colleges. In 2010, the medical group said that black men accounted for the lowest percentage of medical school graduates from all major racial/ethnic groups. Medical educators and researchers remain uncertain of the causes for disparate application and matriculation rates for black men. The primary causes are believed to include limited exposure to medical professionals (e.g., lack of black mentors), a lack of family and peer support, and financial challenges faced by applicants, the medical group said.
"This is a great example of federal stimulus dollars at work," said Keith C. Norris, M.D., executive vice president for Research and Health Affairs at Charles R. Drew University of Medicine and Science. "CDU joined with the barbershop program through a grant, and this union has not only enhanced outreach to educate and screen African American men for key health conditions but has inspired a young African American man to go back into the health sciences."
He added, "This future doctor will have a needed perspective on the social determinants of health that few are exposed to. This is what CDU and community leaders like Dr. Releford are about."
ABOUT THE LATIN AMERICAN SCHOOL OF MEDICINE
In June 2000, a U.S. Congressional Black Caucus (CBC) delegation visited Cuba to meet with Fidel Castro. Rep. Bennie Thompson (D-Miss.) mentioned to Castro that his district had a shortage of doctors, who responded by offering full scholarships for U.S. nationals from Mississippi at The Latin American School of Medicine. Then, a meeting in Washington, D.C. with the caucus, C, and the Cuban Minister of Public Health expanded the offer to all districts represented by caucus members. A couple of months later, during a speech at Riverside Church in New York City, Castro expanded his offer, which was reported as The Latin American School of Medicine reserving space for several hundred spaces for medical students from low-income communities in the U.S.
ABOUT THE BLACK BARBERSHOP HEALTH OUTREACH PROGRAM
The Black Barbershop Health Outreach Program is the first initiative of its kind to exclusively address health care disparities in African American men on a national level. While medical advances and milestones benefit the general U.S. population, African American men experience the lowest life expectancy rate of any segment in American society. Undetected cardiovascular disease contributes to disproportionate mortality and morbidity among African American men. Forty percent (40%) of African American men die prematurely from cardiovascular disease as compared to 21% of white men. Black men suffer far worse health conditions than any other racial group in America. There are a number of reasons for this, including racial discrimination; a lack of affordable health services; poor health education, cultural barriers; poverty, employment that does not carry health insurance; insufficient medical and social services catering to black men. For more information, visit http://www.blackbarbershop.org.
ABOUT CHARLES DREW UNIVERSIY OF MEDICINE AND SCIENCE
CDU is a private nonprofit, nonsectarian, minority-serving medical and health sciences institution. Located in the Watts-Willowbrook area of South Los Angeles, CDU has graduated more than 550 medical doctors, 2,500 postgraduate physicians, more than 2,000 physician assistants and hundreds of other health professionals. The only dually designated Historically Black Graduate Institution and Hispanic Serving Health Professions School in the U.S. CDU is recognized as a leader in translational and health inequities research, specifically with respect to heart disease, diabetes, cancer, mental health, and HIV/AIDS. The university ranks among the top 7% of National Institutes of Health-funded institutions. Recently, the CDU/UCLA medical program was named "best performer" in the University of California system for producing outstanding underrepresented minority physicians. For more information, visit http://www.cdrewu.edu/.