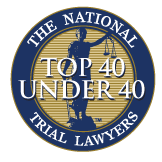 Virginia Beach, VA (PRWEB) March 30, 2012
The National Trial Lawyers has selected Virginia injury attorneys Emily Mapp Brannon and Kevin Duffan, associates with the Shapiro, Lewis & Appleton law firm, for inclusion in "Top 40 under 40″ trial lawyers in Virginia.
The National Trial Lawyers Top 40 Under 40 is a professional organization comprised of America's top young trial attorneys. Membership into the Top 40 Under 40 association is by invitation only and is limited to lawyers under the age of 40 who are chosen by a comprehensive selection process that includes peer nominations and third-party research. Those lawyers selected have excelled in the court room, possess superior qualifications, and have displayed leadership as young trial lawyers.
Basically, this means Emily and Kevin are some of the best personal injury lawyers in Virginia under the age of 40.
Our Virginia personal injury law firm is proud that Emily and Kevin were selected for this prestigious honor. They represent our firm's commitment to excellence and willingness to advocate our client's rights from the initial pleading all the way to a jury trial, when necessary.
Emily and Kevin's achievement comes on the heels of the firm being selected as one of the best injury law firms in Virginia for 2011-2012 by U.S. News & World Report.