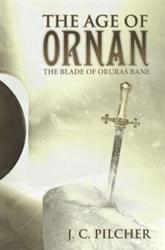 MARTINSBURG, W.V. (PRWEB) March 30, 2012
As with the timeless literary classics such as Tolkien's "The Lord of the Rings" trilogy and C.S. Lewis' "Chronicles of Narnia" series, J.C. Pilcher's "The Age of Ornan: The Blade of Oruras Bane" (published by CrossBooks), creatively combines fantasy and Christianity in a new series of striking adventure and faith.
"The Age of Ornan" is the story of Burdep, a young and fearful prince of a small people who, through a rough set of circumstances is forced to leave his kingdom with his brother and sister. On the journey, the young hero discovers a legendary sword, The Blade of Ornan. Sword in hand, Burdep is chosen to help a racially divided group fight against an ancient evil the weapon was created to defeat.
Burdep froze for a moment. He was not expecting the mercenary to ask him to return the favor. But it was obvious that these people had no prejudice against the Mirus, and at this point they seemed willing to believe his story. But he needed to leave the sword out of the conversation. "My real name is Burdep Feliwafdir," Burdep said, "and the two are called Barram and Mershapi."
In this first installment of a three-part epic, readers follow Burdep and his siblings as they travel through the other kingdoms in the land of Domus-Lux and learn that trusting God is the only way to be successful.
"While none of us are forced to face an age-old dark lord as Burdep is required, we all come across challenges in our lives that are far too difficult for us to handle," explains Pilcher. "In such situations it can seem like faith in God is more of a hindrance than help, but if we remain faithful to Him, He will get us through the fire."
About the Author
As a teenager, J. C. Pilcher struggled to understand his faith. In response, he wrote The Age of Ornan so that certain aspects of Christianity would be easier for everyone to understand. He currently works as a youth pastor in Martinsburg, West Virginia.
CrossBooks, a division of LifeWay Christian Resources of the Southern Baptist Convention, is a Christian publishing imprint committed to bringing more Christian voices into the publishing industry. Established authors, first-time authors, and authors anywhere in between can meet their goals and fulfill their vision for their books by publishing with CrossBooks. CrossBooks' innovative style of publishing blends the best of traditional and self-publishing. While our authors contribute monetarily to cover the cost of publishing, we maintain a strict moral and quality standard that every manuscript must meet for us to publish. For more information on publishing your Christian book with CrossBooks, log on to crossbooks.com or call 1-866-879-0502.