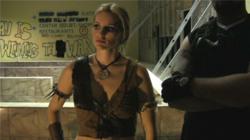 "Visually Stunning" Live Magazine
Palm Springs, CA (PRWEB) March 30, 2012
Producer Carolina Ford Liechtenstein and Brian Shotwell's micro-budget and experimental science fiction film "Defcon 2012" has become a smash international hit because of foreign distribution and sales joining the ranks of fellow "found footage" films. The story about a film director, his cast and crew vanishing on the eve of armageddon has become a cult classic as it continues to climb the MOVIEmeter™ on IMDb.com, the standard of a film's popularity for any given week. For the week of March 26th, the film stands at an astonishing #205.
For comparison, the same week Avatar is #133, Star Wars is #265, and Blade Runner is #275.  Most surprising of all comparisons is that 2012, staring John Cusack with a budget of $200,000,000 is at #380.   For an upstart indie film production to be 175 films ahead in terms of popularity of a studio blockbuster with a similar theme is nearly unimaginable.   
Selling modestly well on Blockbuster in the US, the cryptic story has caught hold of foreign audiences' taste for novelty, with snowballing buzz abroad in Hong Kong, Germany, Switzerland, Austria, Thailand, Indonesia, Kuwait, Australia, and England.  In Japan, where the film is still not available, the film is briskly selling pre-order copies on sites with no poster image for upwards of $50.  
Producers Carolina Ford Liechtenstein, granddaughter of legendary director John Ford (The Searchers, The Grapes of Wrath) and Brian Shotwell filmed with director R. Christian Anderson and actor Xu Razer in a formerly glorious but now long closed and boarded-up luxury shopping mall in downtown Palm Springs, which was decrepit enough to stand in as a post-apocalyptic distopia. Upon completion, the film was seen at Cannes Film Festival's Le Marché du Film. A short time later it won "Best Science-Fiction Feature Film" at the "New York International Independent Film Festival" last year.