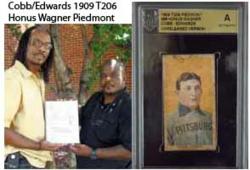 " Cobb/Edwards Wagner is the only T206 Wagner to be authenticated by forensic science and other experts to prove its authenticity. The first Wagner Error card".
Cincinnati, Ohio (PRWEB) March 30, 2012
"The Holy Grail of Baseball cards" the rare Cobb/Edwards 1909 Honus Wagner T206 card is up for auction on April 18, 2012 on eBay. This same card has been feature on HBO Real Sports and ESPN-OTL on debate of its authenticity and because of the controversy, the Cobb/Edwards Honus Wagner card has went under every test imaginable to prove its authenticity and has pass every forensic test giving.
The Honus Wagner T206 card in this auction is owned by Cincinnati, OH entrepreneur, Ray Edwards and his cousin John Cobb. Cobb purchased the card in 1983 or 1984 from a speculator for $1800; its earlier provenance is unknown. It has a Piedmont (Factory 25) back, as does the card -- once owned in part by hockey star Wayne Gretzky -- that sold on eBay for $2.8 million.
Check out the results from the experts on carbon, printing, forensics and more at http://www.honuswagnerauction.com . Many have disputed the authenticity of the Cobb/Edwards card, but nobody can disprove the authenticity with facts. With the memorabilia industry being investigated by the FBI (Operation Foul Ball) for card doctoring, shill bidding, false COA, etc.., The Cobb/Edwards card has pass all industry standards when it came to authenticity. The Cobb/Edwards card is graded as an "Unreleased Version" authentic 1909 T206 Honus Wagner card by ACA Grading. That means that this card was stopped at the printing press and is missing the black ink that would make this card complete. Why it was stopped at the press, no one knows. This card is the only T206 Wagner in the world that has been authenticated by science to prove its authenticity. No other Wagner T206 comes with forensic test of authenticity on its COA.
A Matter of Race and Class:
The world of sports memorabilia collecting is largely dominated by wealthy white men. Enter into the mix, two working-class African American men, one of which has worked in a family-owned rubbish business part time, a good portion of his adult life, and from that experience became an ardent collector of all sorts of memorabilia - from comic books and iconic LIFE magazines, to Pokémon cards and pop culture collectibles - all meticulously catalogued and crated.
"Why is it so unbelievable given all the years my cousin (John) has been collecting that he wouldn't come across a valuable baseball card? One of our appraisers, Bob Connelly, said that if he had blonde hair and blue eyes there would be no doubt," says Ray Edwards. Cobb and Edwards have been accused of theft - no charges were ever filed, and the police have cleared their names. They have had racial slurs hurled at them on the Internet baseball memorabilia message boards; they have been accused of attempting to pass along counterfeit merchandise. There have been home invasions at gun point, and a bankruptcy filing by Edwards and a mild stroke suffered by Cobb. Yet despite the decade of insults to their character and personal set-backs, Cobb and Edwards remain unfazed and unbossed.
There have been supporters along the way, such as antiques dealer, and appraiser Bob Connelly of Binghamton, New York. Connelly was the first to speak out - and on national television about the racism the cousins were experiencing because they were not part of the sports memorabilia establishment. Connelly held an unsuccessful auction of the T206 Honus Wagner Card, and held the card in his safe for 5 years before relinquishing it back to Cobb and Edwards just this year.
Honus Wagner is said to be the greatest player to ever play on the diamond and is amongst the first 5 to be inducted into the Baseball Hall Fame. The T206 Wagner card is at the top of every baseball card collectors want list. The Cobb/Edwards card is the rarest of all T206 Honus Wagner cards and will be the talk of any collection. For the Cobb/Edwards Wagner card, the next step in its history is up to you. IPS authenticated the paper stock, Arnie Schwed the printing method, Johanne Bergeron, Forensic Document Examiner, Martin Brouillard Senior Grader. Bob Connelly says it's in very good condition and probably worth about 1.5 million on ESPN. What it's really worth is up to you. The one and only 1909 T206 Cobb/Edwards Wagner card.
The Cobb/Edwards journey to authenticate their Honus Wagner T206 card for over the past 10 years is what movies and books are made of. What a story to be told. Visit: http://www.honuswagnerauction.com to see the forensic report, eBay auction details, press releases, HBO video, ESPN video and much more on the Cobb/Edwards 1909 T206 Honus Wagner card.
Contact:
Ray Edwards
info(at)honuswagnerauction(dot)com
http://www.honuswagnerauction.com