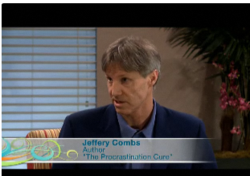 Procrastination takes its toll. It creates financial challenges, enhances health risks, hinders relationships, and ends careers
Stockton, California (PRWEB) March 29, 2012
Jeffery Combs, the author of 'The Procrastination Cure' who recently appeared on 'The Balancing Act' on Lifetime Television, has released a new Procrastinators Recovery Kit available at his website http://www.jefferysgoldenplan.com. The Procrastination Recovery Kit, which contains a 7 Day Video Training Series, his '7 Days to 7 Figures' eBook, daily affirmations and more is designed to assist those suffering from procrastination.
Why do people procrastinate and what can we do to turn procrastination into production? Jeffery Combs, president of Golden Mastermind Seminars Inc., will answer these questions in his free Procrastination Recovery Kit.
"Procrastination takes its toll. It creates financial challenges, enhances health risks, hinders relationships, and ends careers," say Mr. Combs. "I have spent over 15 years studying, implementing and mastering simple principles to release procrastination in order to create entrepreneurial and personal success. And now, The Procrastination Cure – 7 Steps To Stop Putting Life Off, will assist you in your recovery from procrastination.
As the President of Golden Mastermind Seminars Inc., Jeffery Combs is committed to assisting people to change the way they feel in order to achieve their goals and dreams! During his years, he has personally coached over 6,000 entrepreneurs and devoted over 60,000 hours to coaching his clients. Jeffery Combs has discovered the secrets to overcoming procrastination and can provide you with the unique answers to the challenges that affect each and every one of us.