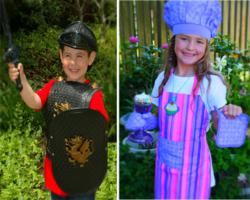 Our major focus was creating parties that would exceed expectations, while keeping them as easy and budget-friendly as possible
Folsom, CA (PRWEB) March 30, 2012
Childhood memories in every box!
Countless hours of shopping and planning for their daughter's third birthday party led this young couple - FancyPantsParties.com founders, Brandon and McKenzie Diegle - to the creation of a one-stop-shopping website featuring low-cost, high-quality themed children's birthday party packages.
"Even in these tough economic times it was starting to become almost commonplace to hear our friends and relatives admit that they had spent well over $1000 dollars on their child's birthday party. The amount of time invested in planning the event was also astonishing," remarked McKenzie Diegle. "It seems that whatever luxuries parents might be willing to live without, the perceived happiness of their children is one area they don't want to cut back. We thought it was time that someone offered an easy, affordable solution."
FancyPantsParties.com is an innovative website that offers pre-planned dress-up party boxes that ship directly to their customers. "We couldn't find any websites that combined all the important elements of a great dress-up party in one package," says Brandon Diegle. "Our site offers a number of themed packages, each including: quality costumes, invitations, thank you notes, favors, favor bags, table cover, center piece, plates, napkins, cups, cutlery, balloons, streamers, birthday candles, even a theme-related craft. The site also offers multiple party game ideas, recipes, and co-ed party options for most themes. In addition, the 'Create Your Own Party' section allows parents to pick and choose items individually. Base party packages for six guests start at $169.95."
"Our major focus was creating parties that would exceed expectations, while keeping them as easy and budget-friendly as possible," notes the couple. "Parents should be able to give their children a party they
will always remember without draining their energy or their wallets! The costumes are also perfect for Halloween, school plays, or any dress-up event."
Visit http://www.FancyPantsParties.com today and make party planning easy.
FancyPantsParties.com donates 5% of all proceeds to child-related charities.