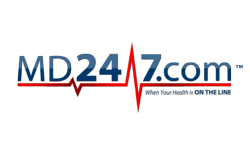 MD247 Wants To Protect You on Vacation.
Tampa Florida (PRWEB) March 29, 2012
Seminole Florida telemedicine specialists MD247 have taken paraphrasing a quote by Saint Augustine, "the world is a book that must be traveled in order to fully understand its beauty." The idea is not meant to be abstract, as it actually pairs with a new interim travel healthcare option MD247 is offering travelers visiting each of the fifty states and/or the District of Columbia. MD247 intends to unveil the new interim travel healthcare protection plan at the American Resort Development Association World 2012 Convention and Exposition, which is being held at the Venetian Resort Hotel and Casino in Las Vegas between April 1st and April 5th.
The MD247 interim travel healthcare option deviates from the "all-encompassing" MD247 Talk to a Doctor program in that it is designed to give non-MD247 members the chance to ensure that their vacation goes off without a medical hitch. This is accomplished by providing interested travelers, be they a family visiting Walt Disney World or hikers in the Rockies, 24/7 access to board certified medical professionals via telephone 24/7 from the moment the trip starts and ending at midnight on the final day of the journey. Each traveler in the vacation party has equal access to the certified medical professionals and, if a set of symptoms escalate to the point of a prescription being needed, MD247 can even make that happen. All of this is available to an entire family for a single payment of $9.95, and MD247 takes care of the fees typically incurred when a patient call escalates from a registered nurse to a board certified doctor. That means that MD247 will pay fees of around $35.00 directly out of their pocket, leaving a patient just the price of his or her antibiotic prescription at the local Wal-Mart or CVS. The service is meant to provide peace of mind, and ensure that precious memories are made.
The American Resort Development Association World 2012 Convention and Exposition in Las Vegas is the premier gathering for the vacation ownership industry. The ARDA World 2012 Convention and Exposition boasts 3,000 attendees from more than 35 countries.
MD 247 is a twenty-four hour a day affordable concierge telemedicine company based out of Seminole Florida. All members have unlimited twenty-four hour telephone access to a nationwide medical support team with just a phone call. MD247.com has a virtual platoon of Registered Nurses and board certified physicians in each and every state available to members for ALL non-emergency situations. You can learn more about MD247.com by visiting http://www.md247.com.