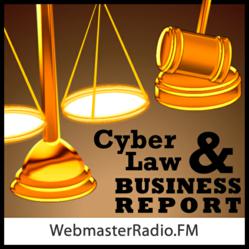 Fort Lauderdale, Florida (PRWEB) March 29, 2012
Peder Magee, a senior attorney in the Federal Trade Commission's Division of Privacy and Identity Protection, recently granted an exclusive interview to Internet Law Center founder Bennet Kelley that recently aired on his WebmasterRadio.FM series "Cyber Law and Business Report".
This past Tuesday, Magee drafted the FTC's final report setting forth best practices for businesses to protect the privacy of American consumers and give them greater control over the collection and use of their personal data. On Wednesday, Magee expressed the FTC's sentiment as detailed in the report.
"I'm not sure we are trying to harmonize, but I think we (and our governmental counterparts in Europe) are trying to give consumers more control, make big businesses practices more transparent," Magee said. "So much of commerce is global right now…so you want to have some consistency so you can do business back and forth.".
The complete interview is available now at http://www2.webmasterradio.fm/cyberlaw-and-business-report/ or on the "Cyber Law and Business Report" feed on iTunes and other major podcast destinations.
The "Cyber Law and Business Report" is hosted by the founder of the Internet Law Center, Bennet Kelley. Bennet has been recognized as "one of the top ten qualified attorneys in internet law." He has also played a leading role in shaping internet law and policy having testified and lobbied on internet issues at the state and federal level and leading the California Bar Cyberspace Committee's effort to develop a primer on cyberspace law for incoming state lawmakers.
Listeners are able to interact with their questions and comments to the host and guests for each interview, as well as all live WebmasterRadio.FM programming, by:

The "Cyberlaw and Business Report" airs every Wednesday at 1pm Eastern / 10am Pacific on http://www.WebmasterRadio.FM. Episodes are archived on WebmasterRadio.FM, as well as on iTunes and other premier podcast portals.
About WebmasterRadio.FM
WebmasterRadio.FM lifts the "veiled curtain" of the Internet, bringing the business community together through an interactive radio network. Its listeners are a global group, comprised of everyone from corporate executives and decision makers to small and mid-sized businesses and individual entrepreneurs. WebmasterRadio.FM's stellar line-up of radio programming includes; "Market Edge" with Digital Influence Group Chairman Glenn Engler , "Purse Strings" with Carmichael Lynch Spong senior principal Maria Reitan and the "CyberLaw and Business Report with Internet Law Center Founder Bennet Kelley. To tune into WebmasterRadio.FM's live content or check out the show lineup, please visit http://www.WebmasterRadio.FM.
Media Contact:
Brandy Shapiro-Babin
954-309-5578