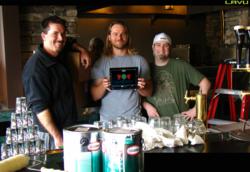 Lavu is user-friendly and that really matters. Plus I know our customers will think it's cool

~Brian Evans - Celtic Knot ~
Albuquerque, New Mexico (PRWEB) March 29, 2012
Launching a new business, especially a restaurant, can be expensive if an operator hopes to include the best timesaving technology. But LAVU - the developers of the original iPad® point of sale system for restaurants- have announced a breakthrough that makes POSLavu affordable for everyone. This is especially good news for start-ups who might have skipped this essential tool due to the fact that most POS systems cost thousands just to get started. Now POSLavu will waive the upfront licensing fee.
In a partnership with leading payment processors, Mercury Payments and Century Payments, POSLavu is now available with zero up-front licensing costs. This new program was developed to give restaurants with limited resources an opportunity to use a full-featured system without the traditional, overbearing costs.
"We believe every business, large or small, deserves a better point of sale system," says Andy Lim, CEO of Lavu Inc. "I understand the pain and frustration of owning a restaurant, especially a smaller business. You can't afford to waste even one dollar on a POS system that doesn't make your job easier. We developed a better way for restaurateurs to run efficiently so they can put their resources towards other things."
Saving money up front makes opening for business easier and faster. Brian Evans, managing partner of Celtic Knot in Reno, Nevada said it was a main consideration. "Getting started, money was tight. You do what you can to cut corners but you don't want to sacrifice quality." Evans, one of the first to take advantage of this new offer, said that he found plenty of options, but decided POSLavu offered the best functionality. "This is my business and I want the best. And when I heard the licensing fee would be free by going with Century or Mercury Payments as my payment processor that was the deciding factor. Besides, Lavu is user-friendly and that really matters. Plus I know our customers will think it's cool."
The POSLavu Silver Package licensing fee is normally $895 but is now free when it's paired with either Century Payments or Mercury Payments credit card processing service. The Silver Package is a perfect system for use in quick serve restaurant environments including coffee shops, counter service restaurants, food trucks, mobile cafes and bars.
The POSLavu system can be seen on television, Friday March 30, 2012 during Gordon Ramsey's hit TV show, Kitchen Nightmares on the FOX network. Check your local listing for broadcast time. To see a live demo of the POSLavu system, visit the LAVU booth no. 6267 at the NRA show in Chicago IL, May 5 through 8, 2012.
About The Companies
In 2010 LAVU, Inc. was credited with launching the most innovative POS application for the restaurant and food service industries, and the very first full-featured PoS app in the Apple App Store. Today, POSLavu is recognized as a leader in this fast-growing technology segment with licensed users and a network of distributors in 22 markets worldwide. Driven by an entrepreneurial spirit, and fueled by passion and creativity, LAVU, Inc. has established itself as a visionary integrator of cloud computing, wireless mobility and multi-touch devices in new and robust ways.
For more information visit http://www.Lavu.com.
Century Payments, Inc. is a nationally recognized leader in the electronic payment processing industry, dedicated to developing progressive programs that benefit merchants, partners and agents alike. In 2011 Century was recognized on the Inc. 500 List as one of the fastest growing, privately owned businesses in the U.S. Visit http://www.CenturyPayments.com for more information.
Mercury Payment Systems is one of the fastest-growing payment processing companies in North America. Mercury partners with point-of-sale (POS) developers and resellers in a unique business model to provide merchants with integrated payment solutions. Mercury's award-winning products and services are distributed solely through the company's business partners. For more visit http://www.MercuryPay.com.
Contacts:
Ben Harrison, POSLavu, office: (855) 767-5288; ben(at)lavu(dot)com
302 Central Ave SE, Albuquerque, NM 87102
Doug Konen, EFG Creative, Inc., cell: (248) 613-4117