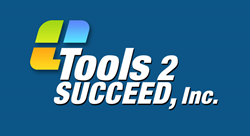 I found this seminar extremely helpful not only for the corporate environment but for personal use as well.
Simi Valley, CA (PRWEB) March 29, 2012
Change has become a constant part of life today, and the future is guaranteed to bring even more change. Job candidates in today's chaotic business environment recognize that the ability to effectively manage change is not only a strategic advantage but is essential to their health and well-being.
In this fun and interactive session, participants will learn:

The impact of change on their lives
To assess attitudes toward change
To understand the change process
To develop resilience to change
The group will learn to de-stress and focus on success. People talk about "embracing change" but do they actually embrace it? The presentation will help to turn the talk into action with a new focus and renewed outlook. Exciting, invigorating and unexpected changes will occur in this session.
Sheryl Tuchman, SPHR, is the founder and CEO of Tools 2 Succeed, Inc., a training, coaching and outplacement company focused on organizational growth and change. Sheryl helps organizations to become high-performing through assessment, strategic planning and leadership training. She coaches business people to reach their goals and dreams. Her business and technical experience includes more than 25 years working for major corporations and managing large I.T. teams and budgets.
Sheryl holds a B.A. cum laude from UCLA and a lifetime State of California Multiple Subjects credential. She is a Senior Professional in Human Resources, Certified Professional Coach and a Registered Career Coach. She was awarded the Competent Communicator designation by Toastmaster's International. Sheryl is the Webmaster for the Professionals in Human Resources District 9 and Director of Career Services for the National Human Resources Association. She is active in the National Association of Woman Business Owners. She is a volunteer for Junior Achievement of Southern California, inspiring young people to succeed in life.
About Tools 2 Succeed, Inc:
Tools 2 Succeed provides business training, consulting, and coaching services to facilitate organizational growth and change. Services include onsite employee development training, leadership workshops, outplacement services, behavioral assessments, and an extensive offering of e-learning courses. Tools 2 Succeed is an Approved Provider of the Human Resources Certification Institute (HRCI), offering fun and interactive public workshops, webinars, and online e-Learning courses for HRCI recertification credit. For more information, please visit http://Tools2Succeed.com.
About Outstanding Professionals Employment Network
OPEN is a network of executive and technical professionals dedicated to helping one another find their next career opportunity through outplacement training, networking, and direct business contact. A chapter of Experience Unlimited, sponsored by the California Employment Development Department (EDD), OPEN supports active job seekers and employers by facilitating professional growth, networking and no-fee placement of local workers with businesses.