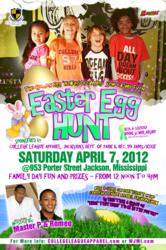 TheCollege Boyys and College Girlls brand was designed to promote positive messages. On the children's t-shirts the company's motto is "Always Dream Big…
Los Angeles, CA (PRWEB) March 29, 2012
Percy Miller, a.k.a Master P, and Romeo Miller will join College League Apparel, The City of Jackson's Department of Parks and Recreation and WJMI to host an Easter extravaganza. The event will be held on Saturday, April 7th at 12:00 pm at Battlefield Park located at 953 Porter Street. The Easter egg hunt will include several prize giveaways; College Boyys and College Girlls clothing, gift certificates and cash prizes will be placed in the "Golden Eggs." In addition, two students will receive scholarships.
"In our family education is extremely important," says Miller. "The Always Dream Big campaign will inspire kids to follow their dreams by making college a reality," continues Miller. "We want to get the children motivated and excited about their future," says Romeo. Along with the Easter egg hunt, there will be a children's fashion show. In addition, there is an opportunity for the students to submit essays to participate in the fashion show and compete for scholarships.
The College Boyys and College Girlls brand was designed to promote positive messages. On the children's t-shirts the company's motto is "'Always Dream Big'…We live in a visual world, our youth need to see it, read it, and it will indeed become their reality," said Miller. The clothing company focuses on inner-city communities expressing the importance of going to college. The College League Apparel promotes education with optimistic messages and uses fashion as the vehicle to change and save lives while setting trends in the clothing business.
Last year, College League Apparel donated school supplies and helped prepare inner-city kids for back to school with the "I Am the Next" campaign in Los Angeles, New Orleans, Mississippi and Memphis. The "Always Dream Big" campaign is also expected to reach over one million inner-city kids this year.
Percy Miller (Master P) music mogul, businessman and philanthropist has instilled the importance of education into his own children. Although his kids are amongst the top young celebrities in Hollywood, both Romeo and Cymphonique Miller understand that education is key to a successful life. Romeo continues his education at USC while pursuing his successful entertainment career and running No Limit Forever. And Cymphonique maintains an honor roll status as she continues with her successful television series and a thriving music career. Additionally, they continue their philanthropic efforts through the Urban Born Foundation.
College League Apparel and prominent national retail stores will be distributing the education-focused t-shirts across the country. College League Apparel VP of marketing Kenisha Cross adds, "It's hard to believe that something like t-shirts can be such a powerful source to change lives in our communities. Our College Boyys and College Girlls brands truly sell themselves with tools like education and knowledge which is missing in this clothing market. We represent the next generation of fashion!"
The clothing line is described as "More than just a clothing brand…"; it stands for something and is making a difference by actually changing lives and saving lives. The goal for the "Always Dream Big" campaign is to encourage the next generation to follow their dreams and achieve success in anything they want to be. For more information, go to http://www.collegeleagueapparel.com