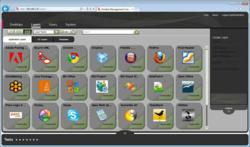 While I still technically have 170+ desktops to manage, with Unidesk it feels more like seven.
Marlborough, MA (PRWEB) March 29, 2012
Cardiovascular Associates, Ltd., one of the largest cardiology groups in the mid-Atlantic United States, is implementing Virtual Desktop Infrastructure (VDI) managed by Unidesk® to simplify IT operations, enhance doctors' access to required healthcare applications, and make it easier to comply with meaningful use and HIPAA guidelines. Unidesk was selected to provision and configure the custom virtual desktops required by the fast-paced healthcare practice, accelerate delivery of clinical and business applications, optimize SAN capacity requirements, and minimize desktop support and maintenance costs. The Unidesk-managed desktops are hosted on HP servers, deployed on VMware vSphere™ virtualization infrastructure, and securely accessed through Pano Logic zero clients and brokering software. The solution was delivered by Phykentech, a leading Pano Logic, Unidesk, and VMware solution provider partner.
According to Wayne Huling, IT Director at Cardiovascular Associates, Unidesk is the technology that gives VDI the operational advantage over PCs. "Our first assessment of VDI was that we were just trading physical desktops for virtual, and we wouldn't see a reduction in operational costs. Then we saw the demo of Unidesk. Layering just made a lot of sense to us. It's incredibly easy to have all of my operating systems, applications, drivers, patches and even user customizations in layers for instant assignment to desktops. I can even group applications by manufacturer for simpler patching. While I still technically have 170+ desktops to manage, with Unidesk it feels more like seven."
Huling said the practice, which has been providing cardiac care in its region since 1965, is growing quickly and must be prepared to open new offices on short notice. Unidesk facilitates this expansion by enabling rapid provisioning of new virtual desktops. Users are now grouped into seven desktop use cases: medical assistants, cardiac testing, business office, nurses, exam rooms, front desk, and IT administrators. While there is significant overlap in the applications required by each use case, there are also differences. Huling manages the desktop variance with Unidesk templates, which combine the reusable operating system and application layers each use case has in common with unique application layers. New desktops tailor-made to each use case can be built in minutes from any of the templates.
"Managing complex healthcare application configurations, scanners, printers, EKG and other drivers, as well as ongoing testing and analysis and ad-hoc delivery of applications would be too complicated without layers," said Huling. "We chose Pano Logic zero clients because they offer endpoints without any moving parts. We wanted that same simplicity on the management side, and that's what we now have with Unidesk."
Like many healthcare practices, Cardiovascular Associates uses standard business applications from Microsoft and Adobe, as well as practice-specific clinical applications such as SRS Electronic Health Record (EHR), PaperPort Professional scanning software, Medicare Remit Easy Print, and ProSolv CardioVascular image and information system. The practice also has a number of devices such as EKG machines and applications that are used by only a handful of users, such as the Medtronic Paceart® System for pacemaker testing. With Unidesk layers, the IT staff packages or patches these applications once for assignment to one or more desktops. Unidesk dynamically combines the assigned application layers with a single Microsoft Windows XP or Windows 7 gold image to create the desktops.
Commented Huling, "It's not just about keeping desktops up to date that's faster with Unidesk-managed VDI. The backing out of patches and updates is also much easier now than it was with PCs. We recently had to undo an upgrade to PaperPort on 60 desktops. With Unidesk, we just re-assigned the older version of the PaperPort layer, and a few minutes later, all the desktops were fixed. On the PCs we haven't yet virtualized, the same operation took us four days."
Unidesk's ability to share the operating system and common application layers across many desktops also reduces the amount of SAN capacity required by the firm's VDI deployment upwards of 70%. Whereas full clone desktops would normally require 30-40 GBs per desktop, Unidesk layered desktops require only 6-8 GBs per desktop.
Cardiovascular Associates' VDI project is currently 50% complete, and the practice is on a pace to become all-VDI over the next year and a half. Unidesk desktop layering and Pano Logic zero clients are the ideal VDI pairing for this multi-office practice and small IT staff that must also demonstrate consistent use of EHR technology to comply with the U.S. Department of Health and Human Services meaningful use guidelines. Many health care providers still use medical record systems based on paper. New government incentives and programs are helping providers make the switch to electronic health records, which improve care by making patients' health information more readily available. Cardiovascular Associates' use of VDI is making its desktops and EHR applications more secure and accessible to its staff anywhere, anytime.
On Thurs., March 29, 2012, at 2pm ET, Huling will provide more details on the business drivers behind Cardiovascular Associates' VDI strategy, as well as design and implementation considerations, in the live webinar "Happy Doctors, Happy IT: Cardiovascular Associates. Shares VDI Implementation Insights." To register: http://info.unidesk.com/acton/form/1850/0033:d-0010/0/index.htm.
Other Unidesk healthcare customers turning to Unidesk to improve healthcare service delivery and reduce costs include Lowell General Hospital, Morehead Memorial Hospital, Mount Graham Regional Medical Center, Ohio Department of Developmental Disabilities, OhioHealth, and U.S. Indian Health Service at Crownpoint .
About Unidesk
Unidesk Corporation (http://www.unidesk.com) enables customers to centralize more desktops on data center servers and cost-justify Virtual Desktop Infrastructure (VDI). Unidesk® desktop management software for VDI is the easiest way to create, patch, personalize, and support desktops and deliver applications for organizations implementing hosted virtual desktops on VMware vSphere®. By using Unidesk's patent-pending desktop layering technology with Citrix® XenDesktop®, VMware View™ and other VDI access solutions, customers can expand VDI to more users, reduce desktop operations costs up to 30%, cut VDI storage costs up to 70%, and foster a more productive, agile workforce. Unidesk Corp. is a privately-held company with headquarters in Marlborough, Mass, USA.
Unidesk is a registered trademark of Unidesk Corporation in the United States and/or other jurisdictions. All other trademarks and registered trademarks are property of their respective owners.