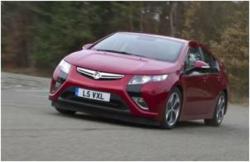 London (PRWEB UK) 30 March 2012
Product manager Simon Prior said the release of the world's first ER car will be the real test after it was voted European Car of the Year and TV advertising starts on April 23.
Seven hundred people have already expressed a genuine interest in the £33,000 car and the sales target for the rest of this year is modest at around 2,500 to 3,000. This is expected to rise to around 5,000 next year. The launch has been boosted by an order of 20 from a leasing company.
Launch manager Ian Allen says that compared to an Insignia 2.0-litre diesel, annual savings on running costs for a company car driver could be as high as £4,000 thanks to benefit-in-kind discount, first year capital allowance, no road tax and fuel savings of £1,100 a year based on driving 12,000 miles a year.
High mileage drivers - those driving 25,000-30,000 miles a year - will be better off driving an efficient diesel, he said. Target customers for the Ampera are those driving 12-15,000 miles a year.
Ampera is launched with two models, the Positiv at £32,250 and the Electron at £33,995 (including the £5,000 government grant). September sees the arrival of a sub-£30,000 entry model at £29,995.
The message that Vauxhall wants to convey is that although Ampera looks expensive to buy, it is very cheap to run costing around £570 per year to charge overnight against petrol or diesel costs of £1,350.
Allen said that estimates from Glass's and CAP, the used car pricing experts, suggest Ampera will be worth around 40 per cent of its new value at £14,500 after three years/60,000 miles. Potential users should take business car advice before making the move to the Ampera and use a car tax calculator to assist.