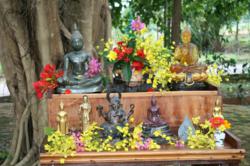 There are very few foreigners here and so the local villagers are delighted when our guests join their activities, such as visiting the temple fair or participating in the Buddhist ceremonies
Chanthaburi, Thailand (PRWEB) March 30, 2012
The owners of Faasai Resort and Spa a Thai-New Zealand couple, Surin Laopha and Bronwen Evans hold traditional celebrations at the resort every year and invite guests, friends, staff and neighbours to participate.
Bronwen says the Thai New Year or Songkran starts in April and traditionally it is celebrated by bathing Buddhist statues and sprinkling scented and blessed water on the hands of monks, elders, relatives and friends. She says since it is also the hottest month of the year, there are also many rowdy street parties, with much splashing and throwing of water.
"Our guests really appreciate the opportunity to take part in Thailand's traditions and feel a part of the family atmosphere at the resort," Bronwen said.
"The area of Kung Wiman where the resort is located, is near a fishing village and off the beaten track. There are very few foreigners here and so the local villagers are delighted when our guests join their activities, such as visiting the temple fair or participating in the Buddhist ceremonies."
Bronwen says Songkran in Thailand is traditionally a time for families to get together and Thais love to have fun – so apart from the blessing ceremony, there are also water battles.
"We give guests a safe refuge from the water fights inside the resort, but on one day of the festival, usually the14th, we invite our guests to join in the water-throwing fun around the district. They come back soaked but happy"
About Faasai Resort and Spa
Faasai Resort and Spa is a 14 room eco-resort at Kung Wiman, Chanthaburi, Thailand about 200 kilometres southeast of Bangkok. The resort is nestled into a forest covered hill amidst tropical gardens. It overlooks the mangrove-fringed Kung Kraben Bay and is a ten minute walk from Kung Wiman beach. http://www.faasai.com.
Awards won by Faasai Resort and Spa
Best Small Hotel Thailand Green Awards 2011
Green award and special award for cultivation and use of herbs and spices from the Governor of Chanthaburi 2011
Outstanding service to the environment and nature in the Eastern region – Thailand Boutique Awards 2010
Best Small Hotel Thailand Green Awards 2009.
Runner-up in the budget category in the 2008 Wild Asia Responsible Tourism Awards.