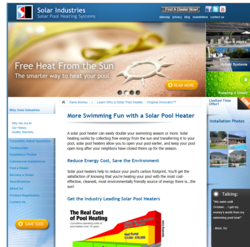 "With the introduction of the Internet and the lead generation that Aquatherm provided, we increased our annual systems installed by nearly 800% in a matter of four years."
- Rich Bonte, Sun Source Energy Products
(PRWEB) March 29, 2012
Aquatherm Industries, manufacturer of solar heaters for swimming pools, has just completed a major website redesign for its Solar Industries™ brand of solar pool heating panels. The company's goal for the newly revamped site is to continue educating pool owners on the benefits of using a solar heater, while social integration tools encourage conversation amongst fans of the now 36-year old brand.
For over 15 years, Aquatherm has used http://www.SolarIndustries.com to promote awareness of its flagship brand of solar pool heating systems–in continuous production since 1976 in Lakewood, New Jersey. Pool owners are invited to learn about their pool heating options, view a gallery of system installation photos, and comb through Solar Industries solar pool heater reviews. When ready, visitors can request a quote from the Authorized Solar Industries Master Dealer nearest them.
Over the years, Solar Industries Dealers have come to see these site-generated sales leads as a trusted source of future customers. Before starting his wholesale solar distribution business Sun Source Energy Products, Rich Bonte was the owner of Solar Living, a Solar Industries Master Dealer. "With the introduction of the Internet and the lead generation that Aquatherm provided, we increased our annual systems installed by nearly 800% in a matter of four years," remembers Bonte.
To date, SolarIndustries.com has connected tens-of-thousands of pool owners worldwide with the most experienced, reputable, and qualified network of solar contractors in the industry.
With the recent growth in the use of commercial pool solar heaters, the redesigned site places an increased emphasis on showcasing recent projects. The Commercial Installation Gallery includes Solar Industries Solar Pool Heaters installed on hotels, summer camps, municipal pools, and military bases.
Pool builders, pool service professionals, and solar contractors looking to grow their bottom line can also find more information on how to become a Solar Industries Dealer at the site.
In honor of the site redesign, Solar Industries is currently offering a web-only promotion for $200 off the installation cost of a new Solar Industries Solar Pool Heater.
###
Aquatherm Industries is the largest manufacturer of solar pool heating systems in the United States, the only U.S. manufacturer of NSF listed solar pool heaters, and the only U.S. solar collector manufacturer to achieve the ISO 9001:2008 quality standard. Aquatherm manufactures several of the industry's leading brands of solar pool heating collectors, including the Solar Industries and Ecosun collectors.
Aquatherm's entire manufacturing process takes place at its 50,000-square foot technology center in Lakewood, NJ - the most modern facility of its kind in the world. For more information on Aquatherm Industries, its products or its dealer network, contact Molly Friar, Aquatherm's Sales & Marketing Manager at 1-800-535-6307, extension 226 or by email at mfriar(at)warmwater(dot)com.