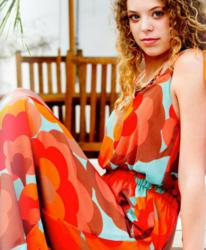 Ocala FL (PRWEB) March 30, 2012
Florida-based fashion design house Judith March just debuted its Fall 2012 line, simmering with warm coral, yellow, brown and navy hues. And LaVida Chic is among the first to carry this stunning collection. Founded by Alabama-born Stephanie Nichols, Judith March combines Southern sass and sophistication with Bohemian breeziness - perfect for the woman who is a little Jackie O. and a little Janis Joplin. Inspiration comes from retro garments, antique pillows, vintage pocketbook embellishments, and photos of Grace Kelly combined with modern trend elements to create looks that are both contemporary and classic.
Pieces from the Fall 2012 line already have appeared in issues of Vie, Seventeen and Southern Living magazines and were featured at the Atlanta Apparel Market. The collection includes flirty A-line mini dresses and tops with sultry off-shoulder and romantic bell sleeves, ruffle bodices with lace trim, and seersucker stripes. A line of scarves combines wood beading with saturated hues and polka dot, stripe and floral patterns. An early fan favorite as noted in Southern Living is the maxi dress style, a fashionable nod to the late 1960s and early 1970s. Judith March maxis are available for pre-order from LaVida Chic.
ABOUT JUDITH MARCH: Based in Santa Rosa, Florida, Judith March is an exciting collection of young contemporary clothing inspired by the feminine and bohemian styles of yesterday and modernized for today's trend-conscious woman. Named for founder and designer Stephanie Nichols' mother and mother-in-law, Judith March fashions are increasingly in demand throughout the United States, Puerto Rico, Canada and Australia.
ABOUT LAVIDA CHIC: Based in Ocala, Florida, LaVida Chic is an online retailer of women's fashions by a select group of independent designers and small boutique clothing brands. Modern trends with vintage vibes are a specialty reflected in LaVida's selection of clothing, hats, jewelry and accessories. Customers are those with unique tastes looking for affordable-but-fashionable alternatives to saturated trends. Judith March is a mainstay of LaVida Chic, which also offers designs by Savannah Rae, Joy Han, Basically Me, Gretchen Scott and Flying Tomato. http://www.shoplavidachic.com