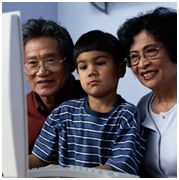 The software consists of age-appropriate assessment scripts, during which the client performs a reading, listening, drawing and/or working-memory task.
(PRWEB) March 30, 2012
François Dupont, Ph.D., senior software developer and key member of the ADHD Suite design team noted, "The software consists of age-appropriate assessment scripts, during which the client performs a reading, listening, drawing and/or working-memory task. Statistics are monitored throughout the assessment from a single EEG-Z sensor and the results are arranged in an excel report. The excel report includes notes and norm values for easy comparison and interpretation."
Neurofeedback and ADHD
Asked about the use of neurofeedback for ADHD, Northeast Regional Biofeedback Society president Cindy Perlin replied, "Recently a 7 year old boy was referred to me. He had been prescribed Concerta six months before for hyperactivity and explosive behavior. After starting Concerta, he began to express violent and suicidal ideation and behavior that are known side effects of stimulants. The response of the psychiatrist was to keep him on Concerta and also put him on Zoloft. Neurofeedback is a much safer, more effective and more permanent solution to treating ADHD than stimulant drugs, and should be much more widely used than it is now."
According to BFE President Dr. Erik Peper, "The evidence is overwhelming in meta analysis that the medication for ADHD has zero long term efficacy and inhibits growth. A superb description of the dangers and harms of medication is in the book Anatomy of an Epidemic: Magic Bullets, Psychiatric Drugs, and the Astonishing Rise of Mental Illness in America, by Robert Whitaker.
Supporting Research and Education in Neurofeedback
Dr. François Dupont is a registered psychologist with competence in general, health, and rehabilitation psychology. In his private practice in Ottawa, Canada, he often combines bio/neurofeedback with techniques borrowed from cognitive-behavioural, dynamic-humanistic and experiential approaches. Involved with the BFE for more than a decade, he has developed a variety of neurofeedback software suites.
When asked about different approaches to neurofeedback assessment and training for ADHD, Dr. Dupont commented "There are many different approaches supported by the BFE. At the core of the BFE-LFB program are a number of very dedicated and talented leaders in the field who have shared their expertise." In addition to Dr. Monastra and Dr. Lubar's ADHD Assessment, the BFE has published software on other methods including Setting Up for Clinical Success and Specialized Application Scripts by Drs. Michael and Lynda Thompson, Dr. Paul G. Swingle's ClinicalQ and BrainDryvr, Peter Van Deusen`s The Learning Curve (TLC) and Dr. Dupont`s own Integrated Neurofeedback.
"An important question to ask is what kind of research supports a specific approach and how do you select the most qualified neurofeedback provider in your area? The BFE offers members of biofeedback and neurofeedback societies opportunities to affiliate with the BFE ADHD team to learn how to apply the proven methods developed by the best practitioners in the field."
Northeast Regional Biofeedback Society Conference
Biofeedback and neurofeedback practitioners will have an opportunity to see the ADHD software during the NRBS Annual Conference "Realizing the Potential of Biofeedback: A Call to Action". The conference is scheduled for the weekend of April 20th-22, 2012 and will address how to increase biofeedback's visibility and get assessment and treatment to more people. It will include workshops on marketing, advocacy, lobbying, PR, fundraising, getting biofeedback into schools and treatment centers and many other essential skills for advancing the field.
About the BFE-LFB (Learn From the Best) Program
The BFE-LFB program provides continuing education via conferences, seminars, workshops, internet courses, and software for professionals around the world. Content is developed independently by International Research & Education Project teams. The next BFE Annual Conference , their sixteenth, is scheduled to take place September 11-15, 2012 in Rzeszów, Poland.
Contact:
Carol Meyers
BFE Education Manager
education(at)bfe(dot)org