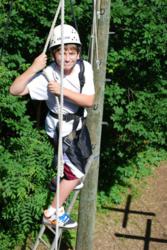 For a child, summer camp is a great opportunity to develop independence. The real challenge lies in helping the parents get through the anxiety associated with giving their children the space to grow.
Toronto, Ontario (PRWEB) March 31, 2012
Many summer camps promise to develop independence within their campers. Kettleby Valley Camp, a summer day and overnight camp in Ontario just north of Toronto, is no exception. It's right there, in bold writing on their home page. Developing independence within children comes easy at summer camp. The real challenge lies in getting the parents through the anxiety associated with giving their children the space to grow. This year, Kettleby Valley has begun to focus more on helping parents through this process.
Peter Truman has been Director of Kettleby Valley Camp for fifteen years. "When we first started the camp, independence seemed to be something that every parent wanted for their child. I think that parents still want that, but some have a hard time coping with letting go." Each day Peter talks to parents about Kettleby Valley Camp and they ask questions like, 'Can I stay with my child when they come to camp?' or 'I'll need to talk with my child when they're at your camp, do I just call the main office?' The most common inquiry is, 'Can I send my child with a cell phone in case they want to talk to me?' These are sincere questions coming from caring parents who are worried that their child might not like the camp or become homesick while they're away.
There has always been the possibility that a camper will suffer from homesickness. However the number of homesick cases hasn't noticeably increased over the last 15 years. And when a camper becomes homesick, they don't want their parents at camp, they want themselves at home. So, as a Camp Director, what can Peter do to help parents contend with their short-term anxiousness in order to reap the long-term benefits that a camp experience has on a child?
Having Mom or Dad stay at camp with their child at camp an impractical solution. It would compromise the authority of the camp staff and would hamper the development of independence within the child. And allowing campers to have cell phones is a recipe for disaster. Incoming calls, games, internet use, and lost, broken or submerged phones are a short list of problems that could be encountered. However, a call home from a child's Counsellor or Section Director might go a long way to putting a parent's mind at ease. Emailing a picture of a child and their happy group of campers might also do the trick. Theses are all things that Kettleby Valley does to help parents get through the experience.
Kettleby Valley also gives parents an opportunity to visit the camp before the summer. An open house takes place each season so that parents and children can see the site, meet the staff and find out what camp is all about.
Non traditional requests like sending a child to camp with a cell phone have led to terms such as 'helicopter parent' and this can result in an adversarial relationship between parents and the camps that they choose to send their kids to. "We want to start looking at things differently," Peter says. "Our effort doesn't need to be on fostering independence within the camper – they want their independence. The focus needs to be placed on helping the parents deal with the anxiety associated with fostering independence within their children."
Kettleby Valley is an Ontario summer camp and outdoor education centre located north of Toronto. They provide both day camps and residential overnight camps to families all over York Region. Families from Aurora and Newmarket have made Kettleby Valley their choice for years. For more information, please contact the camp at 905-726-4275 or go to their website at http://www.kettlebyvalley.com.