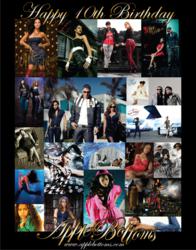 "A woman should not try to fit into the clothes; the clothes should fit the woman!" -Nelly
Atlanta, GA (PRWEB) March 29, 2012
Multi-platinum, Grammy-award winning rapper, actor and entrepreneur- Cornell "Nelly" Haynes- will hold an autograph signing and meet and greet for fans at CitiTrends in Atlanta, GA. Kicking off the 10-year anniversary of his women's apparel line- Apple Bottoms- Nelly will appear at the retail store to celebrate the success of their partnership and growth of the brand.
CitiTrends, whose corporate office is headquartered in Savannah, GA and has 482 stores in 27 states, will host the Apple Bottoms and Nelly in-store autograph signing.
Showcasing the new spring collection, Nelly and his design team will mark their 10-year anniversary in the apparel business. The lifestyle brand has evolved from signature apple pocket denim to a full scale collection that includes: Apple Bottoms Girls and infant apparel, plus sizes, fragrance, home & bedding, handbags & accessories, footwear, intimates, swimsuits, scrubs, sunglasses, optical and jewelry.
Apple Bottoms, renowned for designing pieces that embrace and celebrate the natural curves of a woman's body, Nelly believes: "A woman should not try to fit into the clothes; the clothes should fit the woman!"
Created to offer the perfect fit for all silhouettes, Nelly is involved in the creative process ensuring that his clothes enhance the beauty of all women who wear them.
Customers who attend the appearance will have the opportunity to meet Nelly, take a photo with him and receive his autograph. One on one media interviews with Nelly will be available prior to the event.
WHEN:
Saturday, March 31, 2012
Autograph Signing: 2:00 p.m. – 4:00 p.m.
Media Interviews: 1:00 p.m.
WHERE:
CitiTrends
West Ridge Shopping Center
3050 MLK Jr. Drive
Atlanta, Georgia 30311
MEDIA: CONTACT APPLE BOTTOMS TO CONFIRM AN ON-SITE INTERVIEW W/ NELLY.
CONTACT:
Apple Bottoms
Chie Davis
chie1(at)att(dot)blackberry(dot)net