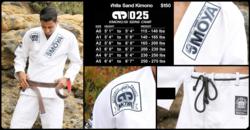 "MoyaBrand develops their gear in a similar way as we do: with constant testing and feedback from real athletes..."
Tucson, AZ (PRWEB) March 29, 2012
Rio Fightwear has partnered with MoyaBrand to offer MMA enthusiasts high-quality performance kimonos. MoyaBrand's highly-anticipated kimonos are the result of the company's commitment to innovative design, high quality, and superior performance. As the mixed martial arts industry continues to explode in the United States, Rio Fightwear is focused on continuing to expand its product offerings by adding companies providing excellent advancements in fighting gear and clothing to further the development of the sport.
MoyaBrand has released a limited number of kimono models, including White Sands, Bluedial Kimono, and their Decart Kimono. They are also releasing a number of signature T-shirts. A full release of all their kimono models will proceed within the next several weeks.
Kimonos in their limited release are currently available* on the Rio Fightwear website, http://www.RioFightwear.com.
The move continues to reflect Rio Fightwear's commitment to offering high-quality MMA and Jiu-Jitsu products and training gear. They are focusing on continuing to facilitate mixed martial art's acceptance into mainstream America by not only allowing fighters to perform at higher levels, but also keep them safe and protected.
"MoyaBrand develops their gear in a similar way as we do: with constant testing and feedback from real athletes," explained Andre Fasciola, President of Rio Fightwear. "This 'gear for the people, by the people' approach results in performance-focused gear and equipment, and it's why we're glad to add another quality to our line-up, thus providing a greater selection of gear to our valued customers."
Each MoyaBrand product manufactured is carefully screened and tested for athletic performance, comfort, and durability. With an experienced staff of sports participants, they can truly identify themselves as a true Competition Brand, established by athletes for athletes.
"We're truly excited about these products," continued Fasciola. "We hope to have a long-term relationship with MoyaBrand, providing the best performing gear and clothing on the market to our customers at great prices."
MoyaBrand's new product line is available on Rio Fightwear's website, along with a wide selection of mixed martial arts gear and equipment, at http://www.RioFightWear.com.

Please note that due to high demand supplies might be on back order.