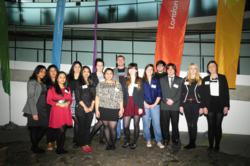 'It feels amazing...We are so excited to see our ideas come to life!'
(PRWEB UK) 30 March 2012
A smart phone application helping young people locate and rate local sexual health services and an interactive sexual health exhibition are joint gold prize winners of Sex Factor Ideas 2012 - a competition by young Londoners.
These ideas will be made into reality by major sponsors and will be launched after the Olympics as part of NHS London's sexual health legacy for the games.
Presented at City Hall, the awards are the culmination of a pan-London competition among young people to develop creative ideas for improving the sexual health of London, which has the worst rates of sexual health in the UK and costs the NHS London about £500 million a year. Over 4000 young people were involved in creating concepts and voting to achieve a shortlist of 40 ideas out of which seven went through to the final.
Joint winners Alyss Robinson, 17, and Devika Chowdhury, 23, (LB Kingston) of the Ask SAM (Sexual health Advice Messaging) smart phone app said: "It feels amazing. We just are really grateful for having been given this opportunity to potentially help hundreds of people. We are so excited to see our ideas come to life!"
Jaheda Ali, 23, Amina Islam, 24, Nasim Laxmidas, 23, (LB Brent) creators of the interactive sexual health exhibition idea said: "Our aim is to arm as many young people with knowledge on sexual health so that they are able to make informed decisions through various fun and enticing mediums. We would like to say thank you to everyone who has nurtured us and supported our dreams since day one, without them we would not be who we are today."
The awards were presented by Rugby World Cup winner and Founder of the StandUp Foundation, Ben Cohen, and judged by a panel of dragons that included André Ullman, Founder and Chairman of HRA Pharma, Jamal Butt, Head of Healthcare Service Relationships, Boots UK, Michael Bennett from the Professional Footballers Association, Marie Gabriel, Chair, NHS East London and the City, Cllr Jonathan McShane, LB Hackney, Elizabeth Bennett, sexual health youth ambassador, and Michael Bell, Director, MBARC Ltd.
Michael Bell, Director of MBARC and Chair of the Dragons' panel said: "We have been blown away by the standard of ideas coming from young Londoners, and what we have heard here today will make me approach my job differently in the future. We will be working very hard and very fast with our sponsors to bring these ideas to reality for the Olympics' Legacy."
Hong Tan, Director, London Sexual Health Programme, said: "Young people are an immensely important part of our community in London. I'm pleased the Sex Factor competition has provided an opportunity for us to listen to their ideas about how we might improve sexual health and this builds upon our work in Further Education colleges and as a legacy of the Games."
Joint Gold Award:

Ask SAM phone app – Alyss Robinson, 17, and Devika Chowdhury, 23 LB Kingston
Sexual health exhibition - Jaheda Ali,23, Amina Islam, 24, Nasim Laxmidas, 23, LB Brent
Joint Silver Award:

Kiss Kiss condom packaging – Geraldine Peclard,23, LB Lambeth
Anti-homophobia in sport campaign – Connor Hayes,18, and Tanis Douglas, 19, LB Islington
The Bird and the Bee sexual health advert - Shahana Khatun, 19 and Ellie Steven, 17, LB Hillingdon
Joint Bronze Award:

Culturally specific sexual health resources – Henry Katende, 22, LB Newham
Jordan and Charlie text speak campaign for young people – Shehara Vancuylenberg, 18, Eloise Ball, 17, Aine Kelly, 17, LB Hillingdon
Sex Factor Ideas 2012 is sponsored by HRA Pharma, MSD, Pasante and Boots UK and supported by HIVsport and the GLA London.
About:
The Sex Factor Ideas 2012 competition was launched in September 2011 and has been run on YouTube and promoted through Further Education colleges in London.