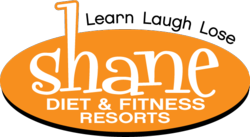 CBT is the best known evidence based treatment model to sustain long-term weight loss and health management says Dr. Michelle P. Maidenberg.
Ellenville, NY (PRWEB) March 31, 2012
To help guests achieve their weight loss goals and create a more dynamic healthy lifestyle and weight loss experience, Shane Diet & Fitness Resorts has added a Cognitive Behavioral Therapy Program (CBT). The Program is supervised by CBT expert, Dr. Michelle Maidenberg. The CBT program, along with Shane Diet & Fitness Resorts' already successful Group Behavior Coaching sessions and fitness and nutrition classes, will help guests learn individualized techniques and strategies for permanent weight loss for when they return home.
CBT helps guests achieve successful long-term weight management by helping them overcome common thinking errors that serve as barriers to weight control. This optional program will be offered in addition to the Behavior Coaching provided to all Shane Diet & Fitness Resort guests for a small weekly fee, and depending on guests' insurance and length of stay at the Resort, guests can be eligible for a significant reimbursement.
Shane Diet & Fitness Resorts (http://www.shanedietresorts.com) is a weight loss program for adults 18 years and older, located in the beautiful Catskills of New York at Honor's Haven Resort and Spa. A year-round adult weight loss program is scheduled to open in the upcoming months. Camp Shane (http://campshane.com), weight loss camps for children, are located in New York, Georgia, Arizona and California and a not-for-profit weight loss camp for underprivileged children, Shane Cares (http://shanecares.com), is set to open in New York.