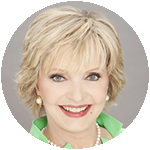 Jacksonville, FL (PRWEB) March 30, 2012
Florence Henderson, beloved star of the long-running television series, The Brady Bunch, will be receiving a Lifetime Achievement Award from National Association of Teachers of Singing at the NATS 52nd National Conference.
Ms. Henderson will be the featured speaker at the gala banquet to be held on July 2, 2012 at 7:30 p.m. in the Oceans Ballroom at Renaissance Orlando at SeaWorld, where she will be honored with the first Lifetime Achievement Award ever presented by National Association of Teachers of Singing.
"Florence Henderson's career spans over sixty years," says Allen Henderson, Executive Director of NATS. "Singing has infused nearly all her performances from her earliest performances, to musical performances on The Brady Bunch, to her one woman show. NATS is pleased to honor her numerous contributions to the art of singing. "
Florence Henderson has prospered as one of the most beloved American entertainers of the last six decades. Long before she became a television icon as Carol Brady of The Brady Bunch, Florence's talent, joy in performing and love for people were matched with an ethic of hard work and a curiosity to explore new dimensions–all dating back to the time when she literally sang for her supper at age six in the height of the Depression in Indiana.
Soon after arriving in New York at seventeen, where she was accepted at the American Academy of Dramatic Arts, Florence became a protégé of the legendary Rodgers and Hammerstein and was cast for the last national tour of Oklahoma! in the lead role of Laurey. Other roles on stage and screen soon followed, but she is perhaps best known for mega-popular The Brady Bunch that has not left the airwaves in syndication since it ceased production in 1974 aired in over 122 countries.
Since then, Florence Henderson continued to star in major theatrical productions, headline in Las Vegas and perform live at major venues around the country, most recently in her autobiographical one-woman show All the Lives of Me. She hosted Country Kitchen on The Nashville Network for nine years, and her talk show, The Florence Henderson Show, is still broadcast on RLTV on DirecTV. She is also the national spokesperson for Bausch & Lomb's Crystalens.
Florence was inducted into the Smithsonian Institute's first permanent Entertainment History Exhibit as one of the greatest pop cultural icons of all time in November 2008 and received a star on the Hollywood Walk of Fame in 2003. Her memoir, Life Is Not a Stage, was released by Center Street/Hachette Book Group in September, 2011.
Additional information is available at the Conference website, http://nationalconference.nats.org.
About NATS, INC. and the NATS National Conference
Founded in 1944, National Association of Teachers of Singing, Inc. (NATS) is the largest professional association of teachers of singing in the world with more than 7,300 members in the United States, Canada, and over twenty-five other countries. In addition to sponsoring one of the most prestigious competitions for classical singers, NATS Artist Awards (NATSAA), NATS offers a variety of lifelong learning experiences to its members: workshops, intern programs, master classes, and conferences. NATS National Conferences offer opportunities for education and networking for voice and singing professionals.
# # #