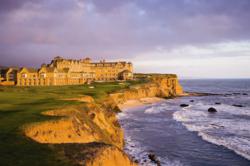 Half Moon Bay, CA (PRWEB) March 31, 2012
As more and more hotel guests enjoy traveling with their best friends, their pets that is, The Ritz-Carlton, Half Moon Bay has created a new program to welcome pets as guests. The resort's signature Pampered Pooch Program will welcome furry friends with special amenities, services and a menu specifically designed to cater to human and canine needs.
"Many of our guests live in and around the San Francisco Bay Area often driving to the resort, so it is easy for them to travel with their pets," said Jay Heidenreich, Director of Sales & Marketing. "Now we've made pets as welcome at the resort as any of our guests."
The resort's pet-friendly guesthouses are located along the Coastal Trail which is perfect for guests wanting to take their dogs for a walk. The guesthouses are larger to accommodate an extra pet-guest and have easy access to the green lawns right outside. When pets check into the guesthouses, they are given a Pet Pawsport which details the pet-friendly attributes of the resort and acts as their guide to The Ritz-Carlton, Half Moon Bay.
Dogs will wag their tails when they check into a guesthouse furnished with bowls for food and water, a plush dog bed, a chew toy and a trail map. An in-room dining pet menu is included in the Pampered Pooch Pawsport and includes canine casserole, bow wow meatballs and rice, home-baked biscuits and pet friendly ice cream. A one-time cleaning fee of $125 is charged for each Guesthouse occupied by a pet. The resort is donating $10 of the cleaning fee to the Peninsula Humane Society.
In addition to the new program the resort has launched a Pup Play Dates program. It's not a dog sitting service, but rather a time of activity and entertainment for dogs for $90 per pup. Pampered pooches will enjoy walking along the Coastal Trail, playing fetch, and walking along the beach below the stunning coastal cliffs. Body-brushing and grooming services are also all available upon request.
For more information or for room reservations, contact your travel professional, visit http://www.ritzcarlton.com/hmb or call Ritz-Carlton worldwide reservations at (800) 241-3333. Visit http://www.experiencehalfmoonbay.com to learn more about the destination.
Situated 23 miles southwest of the San Francisco International Airport, The Ritz-Carlton, Half Moon Bay is a 261-room destination spa and golf coastal hotel and the San Francisco Bay Area's only oceanfront resort. Set atop a rugged bluff overlooking 50 miles of pristine California coastline, the timeless oceanfront estate provides guests with a relaxed yet refined experience, whether for a romantic getaway, meeting or special event.
###