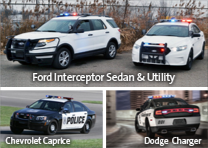 Warminster, PA (PRWEB) March 29, 2012
The retirement of the Ford Crown Victoria has police departments facing the largest fleet change in years. With the Crown Victoria making up about 70 percent of police vehicles, fleet managers and departments across the country must cope with this expensive and stressful shift. Havis Inc. facilitates this undertaking by offering mobile office solutions that are not only easy to implement, but also improve officer safety and comfort.
To accomplish this, Havis collaborated with Ford, Dodge and Chevrolet to develop solutions designed to meet and exceed OEM fit and finish, while providing departments with mounting space for mission critical communications equipment. Several Havis solutions were incorporated into OEM demo vehicles, evaluated and tested to ensure maximum performance.
One of the biggest concerns for police departments is the cost of purchasing and equipping a new fleet. Whether a department chooses the Chevrolet Caprice, the Dodge Charger or the Ford Interceptor, the cost of outfitting that vehicle can range from $2,500 to over $50,000, depending on what equipment is needed.
Departments can reduce these expenditures by moving existing equipment and their mounts into the new vehicles. Various Havis products, such as docking stations, equipment brackets and faceplates, could be transferred with their corresponding technology, greatly reducing the financial impact.
Another concern that departments face is retraining officers on the set up and handling of their new vehicle. Vehicle-specific mounting and computing options from Havis provide officers with a familiar and ergonomic layout for their laptops, radios and other mission-critical controls. This layout will enhance the driver's comfort and focus in any vehicle by properly positioning equipment to reduce back, wrist and eye strain.
Havis has the industry's largest breadth of product portfolio that includes consoles, mounts, docking stations, power management, and an expansive accessory selection. In addition to its vehicle-specific solutions, Havis offers universal consoles and filler plates that fit in almost any vehicle, regardless of make, model or year. This breadth of portfolio ensures consistency throughout the fleet, minimizing the risk of in-vehicle mishaps while operating in high-risk environments, like pursuits.
With police departments nationwide tackling this major fleet transition, Havis is easing the process with in-vehicle solutions that recreate a familiar, comfortable and quality mobile workspace. Departments can consider Havis a business partner working side by side with them to keep their officers safe and productive in the field and in their new vehicles. For more information, please visit http://www.havis.com.
About Havis
Havis Inc. is a privately held company that manufactures in-vehicle mobile office solutions for public safety, public works, government agencies and mobile professionals. For over 80 years, the Havis mission has been to increase mobile worker productivity with industry leading products that are built to the highest safety and quality standards and are designed with comfort in mind. Headquartered in Warminster, Pa., with an additional location in Plymouth, Mich., Havis currently employs 175 people. For more information on Havis, please call 1-800-524-9900 or visit http://www.havis.com.
Contact:
Andrea Felice
Havis, Inc. | Marketing
Phone: 215-957-0720 ext. 3198
E-mail: media(at)havis(dot)com
http://www.havis.com