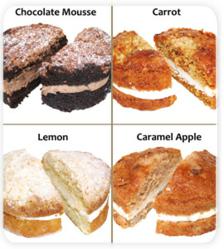 New York, NY (PRWEB) March 30, 2012
Bake Me A Wish! has done it again, with a new selection of 4-inch cakes that are sure to please! Due to popular demand for more and more flavors, they are pleased to announce the launch of the unique Classic Layer Cake Sampler, which includes four, two-layer cakes with the frosting in the middle!
Each Layer Cake Sampler gift includes a 4-inch Chocolate Mousse Torte, 4-inch Carrot Cake, 4-inch Lemon cake and one of their most popular flavors, a 4-inch Caramel Apple cake. The gift arrives packaged in an elegant gift box and includes a greeting card that consumers can personalize online. This is a great gift for Birthdays, Easter, Mother's Day and more! The Layer Cake Sampler gift starts at $39.95 and can be customized even further with their Singular Sensation Collection. This featured item allows you to mix and match any combination of their 4-inch cakes into your own unique gift cake delivery right on their website!
As always, 5% of each new Layer Cake Sampler will be donated to Operation: Birthday cake, a program started by Bake Me A Wish and their non-profit partner, Soldiers' Angels to have gourmet birthday cakes delivered to our American troops stationed around the world.
Founded in 2004, BakeMeAWish.com is a premiere gifting service offering award-winning gourmet cakes. Each gift cake delivery includes an imported Belgian Chocolate occasion plaque, Matching Greeting Card that can be personalized online and comes packaged in an elegant gift box. Cakes are priced between $25 and $75, including shipping, and can be sent overnight, nationwide. Giving back to the community we share is at the heart of each wish.
To order your gourmet cake gifts or to inquire about http://www.BakeMeAWish.com corporate loyalty programs, please call 888-987-9474.