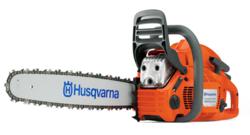 Husqvarna products are U.S. made.
Destin, FL (PRWEB) March 29, 2012
The Husqvarna brand is known for top of the line construction, versatility, extra features, and overall quality. The Disaster Relief Supply store based out of Destin, FL has received a shipment of these heavily sought after products. Acquiring name brand inventory is a substantial hurdle for growing retailers, and Disaster Relief Supply hopes that Husqvarna chainsaws and power cutters will help in explanding both their e-commerce and brick & mortar business.
Disaster Relief Supply has previously carried chainsaws and accessories like oils, gas cans, funnels, safety equipment, and more. In the acquisition of a Husqvarna dealership, they are now able to call themselves one of the only dealers of Husqvarna products in Northwest Florida. Paired with chainsaws from the Poulan and McCulloch brands, Disaster Relief Supply has more than doubled their inventory of chainsaws, and is now able to offer a variety for beginner to pro users.
Husqvarna products are U.S. made, and offer an added comfort to consumers bent on avoiding overseas manufacturing. Disaster Relief Supply will be stocking their showroom with five different Husqvarna saws:
Husqvarna 455 Rancher 20" Chainsaw
Husqvarna 450 18" Chainsaw
Husqvarna 445 16" Chainsaw
Husqvarna 435 16" Chainsaw
Husqvarna K760 14in Power Cutter
All models were chosen based on reviews, online popularity, and recommendations from customers and Husqvarna sales reps. Disaster Relief Supply plans on increasing their brand name recognition in the coming months with Honda generators and an increased line of Briggs and Stratton products.