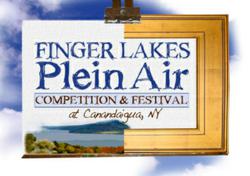 It is truly a painter's dream location. We are looking forward to hosting our First Annual Plein Air Competition and Festival,
Canandaigua, NY (PRWEB) March 30, 2012
A first in New York State, Canandaigua will host the first annual Finger Lakes Plein Air Competition & Festival June 8 -10, 2012. This juried competition offers the competing plein air artists cash prizes for the top three selected paintings ($1500, $750, $500 respectively). In addition to the professional artists competition, Chalk It Up…Downtown, a competition for ages nine through adult will be held Saturday, June 9th as large colorful chalk artworks will be created on the sidewalks. Cash prizes will also be awarded in this event. Funds raised by this festival will support the Ontario County Arts Council, a local non-profit organization fostering art for all people.
On Friday and Saturday, June 8th and 9th, the plein air artists will be out painting throughout the Finger Lakes. It offers a plethora of subject matter to capture on their canvases, including the city of Canandaigua with it's streets lined with interesting architecture, Canandaigua Lake offering scenic shores and quaint cottages, and the surrounding hillsides provide landscapes.
Meanwhile, on Saturday, June 9th downtown Canandaigua will come alive with activity, as sidewalks will be transformed into large chalk works of art. Individuals or teams ages nine through adult are eligible to win cash prizes ranging from $200. - $25.
Festival visitors will enjoy attending demonstrations by artists including nationally known whimsical doll artist Nancy Wiley http://www.nancywiley.com, live music in the Commons and refreshments from food vendors and restaurants located along Main Street.
On Sunday, June 10, plein air artists will submit their final entries for judging by award winning and nationally known, plein air artist Ann Larson http://www.annlarsen.com. There will be an open reception announcing the winners of the competition and all artwork will be available for purchase from 2 p.m. until 6 p.m.
Canandaigua gallery owner and painter, Pat Rini Rohrer, is keenly aware of the visual treasures we have in this region. "It is truly a painter's dream location. We are looking forward to hosting our First Annual Plein Air Competition and Festival making it a well-organized and artistic experience." Serving as the chairperson of the festival, she said, "We hope many artists come to see what we have to offer," while speaking to the Downtown Merchants Association
Learn more about the Finger Lakes Plein Air Competition and Festival at Canandaigua, NY by visiting http://www.canandaiguaarts.com/index.html
About Us:
The Ontario County Arts Council (OCAC) is a non-for profit organization serving all of Ontario County and has been an integral part of the community's art scene since 1989. The organization's mission is to promote the Arts for all people by providing a venue for artists to perform, exhibit their talents, and by hosting learning activities including opportunities to participate in a variety of multi-cultural events.
The OCAC office is located at 175 S. Main Street, Canandaigua, NY 14424, 585-234-6032.