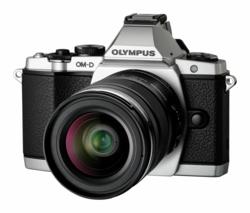 Adorama customers pre-ordering the new Olympus OM-D EM-5 will receive a free accessory of their choice.
Chelsea, NY (PRWEB) March 30, 2012
The Olympus OM-D EM-5 is a digital camera like no other. On the inside, it is a state-of-the-art interchangeable-lens compact (ILC), an exciting new breed of camera also known as the mirrorless interchangeable-lens compact (MILC) and the compact system camera (CSC). On the outside, though, the Olympus OM-D E-M5 is a handsome homage to classic Olympus OM-series 35mm SLRs—down to the familiar top-deck hump that houses the eye-level viewfinder on a digital or film SLR. Cutting-edge and retro at the same time, the Olympus OM-D EM-5 is now available for pre-order at Adorama.com, America's most advanced photo retailer.
Adorama will be selling the Olympus OM-D E-M5, which comes in black and warm silver, in kits with the Olympus M.Zuiko Digital ED 12-50mm f/3.5-6.3 or the Olympus M.Zuiko Digital 14-42mm f/3.5-5.6 II R. The camera will also be available as a body only, for photographers who already own compatible lenses. Bodies and kits all include a bundled Olympus FL-LM2 Flash. Customers ordering the camera from Adorama will receive a free accessory of their choice, either an Olympus MMF-3 Four Thirds Lens Adapter, an Olympus MF-2 OM Lens Adapter, or an Olympus FL-300R Wireless Flash.
As different as the OM-D EM-5's interior and exterior are, there is a connection between them. Whether you call the new interchangeable-lens compacts ILC, MILC, or CSC, they are ultracompact—just as Olympus OM-series models were the smallest 35mm SLRs of their time. As with other ILC models, the new Olympus achieves its downsizing by substituting electronic viewing for the DSLR's reflex mirror system.
With ILC models, photographers can (and often must) use the LCD screen on the back of the camera to view and compose. With the Olympus OM-D EM-5, though, they can choose between the camera's three-inch LCD screen (which tilts up and down for low- and high-angle shooting) or its eye-level viewfinder, shooting just the way they would with a digital SLR but without the bulk. With an ultrahigh resolution of 1.44 million dots, the camera's electronic viewfinder is exceptionally sharp and crisp. What's more, unlike many DSLR viewfinders—which sometimes show less of the subject than is recorded in the final picture—the new model's viewfinder shows 100 percent of what's captured by its Four Thirds-format image sensor.
The 16.4-megapixel image sensor in the Olympus OM-D EM-5 is stabilized by the all-new Olympus Five-Axis Image Stabilization system, which is much more effective at preventing blur due to hand tremors. Autofocus is split-second fast, with enhanced ability to "track" a moving subject. And that improvement is complemented by the camera's blazing 9.2 frames-per-second high-speed burst rate.
The Olympus OM-D EM-5's controls are a mix of modern (wheels and toggle switches) and retro (mode dials). And it is the first in the ILC class to be splash- and dustproof, which together with its rugged magnesium-alloy construction makes it up to the challenge of hard-knocks photography. Likewise, the all-new Olympus M.Zuiko Digital ED 12-50mm f/3.5-6.3 EZ zoom lens (the equivalent of 24-100mm in the 35mm format) features this weatherproof build. Announced in tandem with the camera, this lens is the latest addition to the nearly one dozen Micro Four Thirds lenses accepted by the Olympus OM-D EM-5. With the Olympus MMF-3 Four Thirds Lens Adapter, the camera can also be used with regular Four Thirds Format DSLR lenses, including Olympus E-series optics, and with the Olympus MF-2 OM Lens Adapter, the camera even accepts original OM-series 35mm manual-focus lenses, in either case adding weatherproofing to the lens-camera connection.
For more information about Adorama's editorial program and photographic resources, please contact Russell Hart at partnerships(at)adorama(dot)com or (212) 741-0052, ext. 2423.
About Adorama: As one of the nation's largest photo retail and mail order suppliers, Adorama has served professional and amateur photographers for 33 years. It has recently expanded its service to the community through online photo education (the Adorama Learning Center and Adorama TV) and on-site workshops, programs that make it a unique industry resource. Adorama's vast product offerings now encompass home entertainment, mobile computing, and professional audio, while its services include an in-house photo lab (AdoramaPix) and pro equipment rental (Adorama Rental Company). Knowledgeable staff and unbeatable pricing make Adorama a one-stop shop for all your photo and technology needs. Visit http://www.adorama.com.