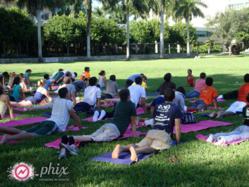 "Freedom Flow Project is all about building intercommunity relationships and bringing everyone together through common interests. Phix promotes the same ideals we wish to project, preaching health, happiness, and embracing fulfilling lifestyles."
Hollywood, FL (PRWEB) March 31, 2012
The Freedom Flow Project launches April 2012, during which time samples of Phix Energy will be provided to help fuel all of the participants.
"Freedom Flow Project is all about building intercommunity relationships and bringing everyone together through common interests," said Cat Haayen, founder of YOGathletA. Phix promotes the same ideals we wish to project, preaching health, happiness, and embracing fulfilling lifestyles."
Freedom Flow Project will be held every Wednesday at Riviera Park. All levels, sizes, and ages are welcome; no prior yoga experience is needed. Phix will be providing samples on select Wednesdays. For more information, please check out the Phix website or http://www.facebook.com/freedomflowproject.
About Phix
Phix is dedicated to the idea that we can all live healthier and more energized lives. Phix Energy powders are natural, vegan, and gluten free.
Phix Energy is a sophisticated energy drink mix and herbal supplement blending green tea anti-oxidants, energy-restoring NADH and Yerba Maté for enhanced vigor, with added vitamins and minerals to keep you feeling healthy. Our natural energy drinks give an immediate lift, but unlike other energy drink mix products, there are no spikes, jitters, or crashes. Phix Energy is smooth and sustained and designed to help improve your energy levels day in and day out. For more information, visit http://www.Phix.com, http://www.facebook.com/drinkphix , or email yourfriends (at) phix (dot) com.
About Freedom Flow Project
The City of Coral Gables has officially adopted the Freedom Flow Project into their health, wellness, and family-oriented recreational offerings. Freedom Project is a weekly free outdoor yoga class brought to the Gables by some of Miami's most beloved yoga-teaching community gurus.
About Cat Haayen
Awaken your inner athlete with Cat Haayen, E-RYT founder of YOGathletA® and of South Florida's premiere yoga instructor to the athlete community. With a strong athletic background she blends wealth knowledge in anatomy, physiology and sport specific injury prevention to create a unique, vigorous-yet-sumptuous approach based on the Power Vinyasa system with a few alterations and refinements to fit into the western class dynamics.