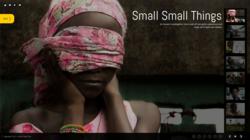 Vento Solutions is proud to kick off its 'Free Web Design for Nonprofits' program to help non-profit organizations & 501(c)3...
New York, NY (PRWEB) March 30, 2012
Vento Solutions is proud to kick off its 'Free Web Design for Nonprofits' program to help nonprofits and 501(c)3s promote their organizations and spread their message online.
Small Small Things was just granted Vento Solutions' first completely free website as part of this new program which is offered to non-profit organizations all over the world.
Vento Solutions is a renowned internet solutions firm which provides services such as web design, web development, and online marketing to companies and nonprofits across America and as far away as Israel, China, and Brazil.
From the company's New York web design office and San Francisco search engine optimization office, Vento works with companies ranging in size from start-up to enterprise.
Vento's recent and upcoming clients include Branded Spirits Ltd. in Hong Kong, Chronix Biomedical in California, and soon Evian's online distribution platform for China & Hong Kong.
Vento Solutions' Free Web Design for Nonprofits program allows non-profit organizations to register an application with the Vento staff. Applications which meet Vento's requirements will receive web development services which will either be 100% free or at minimal costs to the nonprofits (depending on the features required for the site).
The first site launch is SmallSmallFilm.com, which features a sleek design, an intuitive user interface, and awesome imagery. The site owners may plan to work with Vento to include a donations payment page and other more complex features soon.
American director, writer, and producer Jessica Vale spent three years shooting "Small Small Things." The documentary is an exposé which investigates a web of corruption, adventure, and hope set in post-war Liberia. The documentary currently has a Small Small Things Kickstarter.com page which is accepting donations.
The programs next Free Web Design for Nonprofits project is NewEnergy Ghana. This site is in the development stage, but it will surely be the envy of all other nonprofits in the area.
NewEnergy Ghana was founded in 1994 at a time when the vast majority of communities in the region needed development services. NewEnergy focuses on water delivery, sanitation facilities, hygiene promotion, advocacy, micro-credit, enterprise development training, environmental conservation, and renewable energy services. Located in the Northern Region of Ghana, NewEnergy services West Mamprusi, Gushiegu Karaga, tamale Municipality, and Tolon Kumbungu.
This press release is an open call to nonprofits and 501(c)3s around the world to contact our staff via the Vento site or through (866) 211 - 3111.