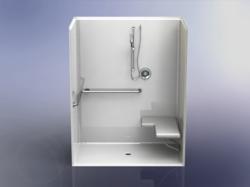 Products requiring special preparations for installation increase labor, time and cost. Aquatic developed 1603BFSB in response to customer requests for an accessible shower that installs with little, if any, modification to the flooring below.
Anaheim, Calif. (PRWEB) March 29, 2012
Aquatic, the world leader in innovative and inspirational bathware, today announced the newest addition to its accessible line – a low-threshold, roll-in shower that can be installed to ADA/ANSI and other accessibility standards with little to no sub-floor modification.
Part of Aquatic's renowned Freedomline collection of more than 40 accessible showers and tub-showers, the one-piece, gelcoat 1603BFSB offers builders and remodelers yet another product choice to meet their needs. It can be the perfect fixture for renovation of assisted living and healthcare centers as well as conversion of other types of buildings into such facilities.
Until now, installing accessible showers in existing structures so they are code compliant invariably has required recessing or building up of sub-flooring. However, recessing is not always an option – it can be extremely expensive and could compromise the structural integrity of the floor slab. Raising the subfloor to meet the top of a shower threshold can be impractical due to existing fixtures, drain locations or even door thresholds.
"Any product that requires special preparation of space prior to installation means more labor, time and cost – something that we at Aquatic are always mindful of when determining what products to develop," said Jim Bollinger, Aquatic's National Sales Manager, Commercial and Hospitality. "We've been hearing from a growing number of customers that they want an accessible shower that they can simply set on the floor with little, if any, modification to the surface below. In response, we created the 1603BFSB."
The aging Baby Boomer population is, in part, driving the need for a product like the 1603BFSB. With those 80 million "kids" born between 1946 and 1964 now beginning to come into their retirement years, developers, builders and remodelers increasingly are converting older structures – such as hotels, schools, office buildings and even factories – into a variety of types of senior housing.
Installing the 1603BFSB shower can be as easy as nailing the unit into the floor and studs. In addition, this unit features Aquatic's pre-leveled base, which ensures a level and solid installation without the use of foundation materials or adhesives, as required by some competitive products.
Aquatic's new accessible shower comes in a smooth finish in standard gelcoat colors of White, Linen, Biscuit, Bone, Almond and Sterling Silver. The 1603BFSB currently is available throughout the Midwest, Northeast and Southeast.
About Aquatic
Born from the 2010 merger of Lasco Bathware and Aquatic Whirlpools, Aquatic is the world leader in bathware, offering the broadest and most inspiring selection of tubs, showers and accessories. The company's Hydrotherapy, Everyday and Accessible lines include more than 300 superbly designed and engineered products for virtually every need. Based in Anaheim, California, Aquatic serves distributors, builders, architects, designers and consumers through a nationwide network of state-of-the-art facilities for manufacturing, distribution and support. For more information, visit http://www.aquaticbath.com.
# # #