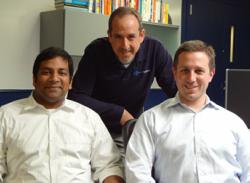 While we've had an incredibly positive response Philadelphia, as we grow to help more renters and landlords, the smart choice is to leverage the knowledge and experience of the Novotorium team.
Langhorne, PA (PRWEB) March 29, 2012
David Friedman, CEO, and Jameel Farruk, CMO, founders of Inhabi, have joined Novotorium to grow their business in the incubator's collaborative, innovative environment. The Inhabi team officially began working with Novotorium on Wednesday, March 28, and will take full advantage of Novotorium's workspace, technology and infrastructure resources, expertise of staff and partners, and the organization's extended network of resources, according to Mike Krupit, who heads up Novotorium.
"We are pleased that Dave and Jameel have accepted our invitation to work with us to further develop their business. The Inhabi team has already created a good product that helps renters and landlords make better selections," said Krupit. "We are confident that by working closely with our team of staff members and partners, Dave and Jameel will be able to make Inhabi even stronger."
Inhabi invites landlords with properties for rent to place information about their properties on its website. Potential renters tell Inhabi about their ideal apartment and then Inhabi's proprietary system immediately identifies optimal matches, connecting landlords and renters. Inhabi offers renters and landlords an advantage over sites such as Rent.com, Apartments.com or even Craigslist's housing section.
"We know that finding an apartment can feel like a full-time job and launched Inhabi last September to simplify and humanize that experience," said Friedman. "Inhabi brings renters to the doorstep of the right apartments for them – without hassle. While we've had an incredibly positive response in Philadelphia, as we grow to help more renters and landlords, the smart choice is to leverage the knowledge and experience of the Novotorium team."
The Inhabi team joins Shiva Srinivasan of Zuppler who was accepted into Novotorium's incubation program in January. Zuppler is a full-service restaurant portal that offers online ordering, table reservations, customized restaurant websites, ratings and more. It competes favorably among competitors such as GrubHub, Seamless, and Delivery.com, and has some differentiating features that many restaurants and consumers find attractive.
Inhabi was introduced to Novotorium through its full-week "Occupy Novotorium" program in January 2012, and subsequently participated in one of the business acceleration groups in February. These well-attended programs have become an effective way to meet and build relationships with the region's startups. Entrepreneurs interested in learning more about Novotorium's programs and applying to be part of the incubator can learn more at http://www.Novotorium.com
About Novotorium:
Novotorium is an independent, private sector initiative funded by the Baron Innovation Group, and based in Langhorne, Bucks County, Pennsylvania. Novotorium provides the environment, advice, services, and funding that are needed for entrepreneurs who strive to grow their emerging companies. Novotorium's unique approach helps entrepreneurs cross the chasm to achieve sustainable growth and profitability. For more information about Novotorium visit http://www.novotorium.com.