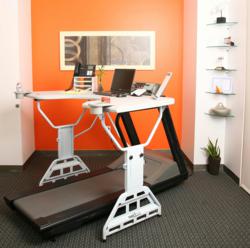 The evidence is clear but the message that sitting kills is falling short of reaching the masses.
Scottsdale, AZ (PRWEB) March 29, 2012
A new study released yesterday from the University of Sydney, published in this week's issue of the Archives of Internal Medicine, urged adults to refrain from sitting as much as possible during the day. The startling report showed that those individuals sitting for 11 or more hours per day were 40% more likely to die within the following three years. TrekDesk Treadmill Desks offer a unique health solution allowing individuals to stay upright and in motion during the work day.
The University of Sydney School of Public Health study analyzed self- reported data from 222,000 adults aged 45 or older collected from Australia's ongoing 45 and Up Study, designed to examine the effects of aging. The risk of mortality was 15% higher for those individuals who averaged 8-11 hours of sitting daily.
"The evidence on the detrimental health effects of prolonged sitting has been building over the last few years," stated Hidde van der Ploeg, a senior research fellow at the University of Sydney and architect of the research in an Archives interview. "The study stands out because of its large number of participants and the fact that it was one of the first that was able to look at total sitting time. Most of the evidence to date had been on the health risks of prolonged television viewing."
World wide the average adult spends 90% of their leisure time sitting, according to van der Ploeg, and fewer than 50% meet the World Health Organizations recommendations for a minimum 150 minutes of weekly moderate level activity. Since most occupations are primarily sedentary the result is a large percent of the adult population is at risk for premature mortality and the onset of numerous diseases.
"The evidence is clear but the message that sitting kills is falling short of reaching the masses," stated Steve Bordley, CEO of TrekDesk Treadmill Desks. "Prolonged sitting is debilitating to health even among those adults who exercise daily. The WHO needs to amend their minimums. 150 minutes of moderate activity weekly is only 21 minutes of activity a day. The fact that 50% of the adults in developed nations fail to reach this limited level of activity is frightening from a long term health standpoint."
About TrekDesk Treadmill Desks: Designed to fit any existing treadmill, TrekDesk treadmill desk is an affordable, full sized, height adjustable workstation that allows individuals the opportunity to gain the necessary amount of exercise daily to maintain health, prevent disease, strengthen muscles, boost mood and productivity, without requiring additional time during the day or extra motivation. Workout at work with TrekDesk. No sweat!
TrekDesk is currently available for sale online at http://www.trekdesk.com.
Join the TrekDesk "Movement Revolution" to learn more, win a free TrekDesk or ask any health related questions anytime at http://www.facebook.com/trekdesk, or follow TrekDesk on twitter -http://www.twitter.com/trekdesk.