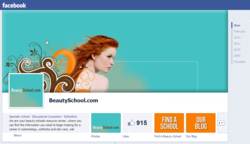 With the new Facebook cover photographs and timeline features, we hope to give BeautySchool.com an improved personality and trustworthiness that helps our users launch their new cosmetology careers
Lenexa, KS (PRWEB) March 30, 2012
As Facebook launches its new timeline style layout for business pages, BeautySchool.com has re-designed its profile to better connect with its audience and suit the top social media website's new features. "Millions of people have spent years curating the stories of their lives," Facebook CEO and Founder Mark Zuckerberg said, and this leading beauty school search website, BeautySchool.com, is taking advantage of the new format to better tell its complete story.
One of the most difficult tasks for a website is developing a unique voice and personality. BeautySchool.com consistently reaches out to their audience via social media and welcomes the increased opportunity to speak to their intended target audience.
"With the new Facebook cover photographs and timeline features, we hope to give BeautySchool.com an improved personality and trustworthiness that helps our users launch their new cosmetology careers," said BeautySchool.com Site Manager Clifford Blodgett.
Currently, Facebook profiles make it tricky to really get to know a website or navigate the information located there. It can also be difficult for those running a site to learn more about their audience through Facebook. Mark Zuckerberg thinks the new timeline profiles will combat this lack of personality and effectively replace a "few hours of an in-depth conversation." BeautySchool.com looks forward to giving its users another avenue to communicate with them.
Along with the new look that was designed to utilize all of the new Facebook timeline page functions, BeautySchool.com has rolled out new applications, or "apps", for the site including "Find a School" and "Our Blog" apps. The "Find a School" app adds another layer of convenience to the user by helping them locate a beauty school without ever having to leave Facebook. The "Our Blog" app is an ever-changing feed of the latest news articles from the BeautySchool.com blog.
To join the conversation, visit the new BeautySchool.com's Facebook page.
About BeautySchool.com
At BeautySchool.com, you can find the information you need to begin training for a career in a variety of cosmetology fields including: esthetics, nail technology, massage therapy, or hair care. Once we've helped you pick which beauty career is right for you, you can research state cosmetology license requirements, compare cosmetology programs and contact cosmetology schools in your area.