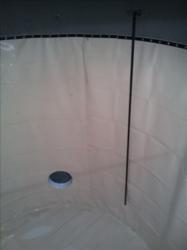 "As the installer, I was able to have nearly all the lining seams made at Witt's plant, providing best in class seam quality and reliability, while keeping labor costs down
Claremore, OK (PRWEB) March 31, 2012
A Midwest pet products manufacturer needed to find a way to place an abandoned concrete vessel back into service to allow them to capitalize on bulk purchasing discounts. The concrete vessel originally had a bonded coating applied to it. Over time, the coating had been compromised by beef tallow, which had penetrated into the concrete causing spalling and cracking, making the vessel unusable.
Because of the penetration of the tallow, there were concerns whether the concrete could ever be returned to a state allowing for a successful application of another bonded liner. Furthermore, the debris and fumes created as these types of systems are applied and cured would create the potential of contaminating the company's product.
The company turned to Melvin Stein of Stein Industries who recommended the use of Witt Lining Systems new WITT TPU flexible lining material. WITT TPU is a flexible polyurethane membrane liner primarily designed for containment of fuel, oils, hydrocarbons and fatty acids. Its excellent physical properties lend itself to being very durable and puncture resistant. The material is also FDA rated making it perfect for a company in the animal feed industry.
Stein Industries performed concrete repairs as needed and prepared the vessel for installation of a 90 mil WITT TPU lining. The project included working through 24" manways for materials and equipment as well as lining through a 3" diameter by 23" long drain fitting. In order to fit the liner through the manway, the body of the liner was made in two pieces and then welded together in the field by Melvin Stein. The liner was mechanically fastened along the top by a polypropylene compression strip. "As the installer, I was able to have nearly all the lining seams made at Witt's plant, providing best in class seam quality and reliability, while keeping labor costs down." Because the liner is not adhered to the concrete, the issue of absorption of tallow into the concrete was not a concern. Installation of the liner was completed in only a few days and as soon as the liner was installed the vessel was ready for immediate use by the company.
Witt Lining Systems is located in Claremore, OK. The company manufactures flexible PVC liners used for corrosion resistance in process tanks, storage tanks, vats, sumps, pits, and containment areas. PVC brands include Spectra Blue, Exceline and Koroseal PVC along with NSF-61 PVC and Teflon liners. For more information contact 1-800-323-3335 or visit http://www.wittliners.com
Stein Industries is a custom designer, fabricator, and installer of plastic tanks, custom equipment, and Witt Linings' factory installer in industrial and commercial applications. The company is located in Bryant, IN. For more information contact 1-260-997-6700 or visit http://www.steinindustries.com.