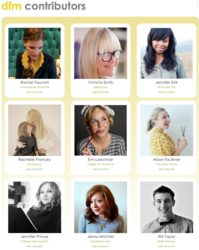 Finding the best of web just got easier with our new line up of guest contributors!
Los Angeles, CA (PRWEB) March 31, 2012
Dotcoms For Moms, a lifestyle site for today's contemporary mom, is partnering with top DIY, design and lifestyle bloggers for fresh content delivered daily. A few of the design bloggers who have joined Dotcoms for Moms are:
Handmade Charlotte
This streamlined and super cool site is the creation of Rachel Faucett, a graphic designer, mother of 5 and lover of arts and crafts who showcases top picks in the handmade marketplace with an artistic and alternative flare.
sfgirlbybay
Victoria Smith started her hugely popular blog, sfgirlbybay, to showcase her taste in eclectic home design, and her talent for mixing and matching vintage, new, and handmade pieces for the home.
Bright Bazaar
This colorful and addictive UK blog, created by Will Taylor, is a visual wonderland. Will has extended his great taste and carefully curated content to Dotcoms For Moms in the Decorating & Nesting category. Will puts a focus on tablescapes, entertaining, and vibrant, spirited interior design.
Ambrosia Creative
Jenn Kirk, a graphic designer and mother of 3, brings a great sense of style with her top fashion picks coupled with simple and stylish DIY projects.
The Alison Show
For fashionable and funky DIY projects, Alison Faulkner is the expert. She is blasting the DIY section with incredible projects from home décor to jewelry. It's amazing what she can do with chalk paint and polymer clay!
Jane Reaction
This beautifully designed blog, created by Erin Jane Riley, comes to Dotcoms For Moms from the North Shore of Hawaii to round up top online picks for everything from modern baby gear to unique home décor.
Kenziepoo
Rachelle Francey helps moms stay stylish with top kids' fashion finds, hair trends and how to's for little ones, and cool kids' spaces. Rachelle is also the force behind the popular online quarterly magazine, La Petite.
Freckle Wonder
Funky and fun, Jenny Mitchell from Freckle Wonder taps into all that is vintage to outfit the home – from vintage toys to board games and everything in between. Jenny delivers retro with a dose of modern attitude.
Odessa May Society
Influenced by travel, creative arts and all that is handmade, Jennifer Prince creates collages of wonderful items are both beautiful and practical. Jennifer's creations help round out Dotcoms For Moms' DIY, Fashion, Decorating & Nesting categories.
"We are thrilled to add these talented style gurus to our family of contributors at Dotcoms For Moms. We've handpicked the best style bloggers out there to help diversify our content and extend our reach to truly find the best of the web!" Rita Mauceri, Founder of Dotcoms for Moms.
About Dotcoms For Moms
Inspired by her own busy life as a mother to three children (twin boys followed a year later by a girl,) award-winning television producer, author and lifestyle expert Rita Mauceri launched Dotcoms For Moms in January 2011 to provide moms a solution to the challenge they face online: keeping track of the gems and weeding out all the junk found in a typical online search. With the launch of Dotcoms For Moms™, Mauceri draws on her more than 15 years of experience in entertainment and women's lifestyle to create the ultimate online destination for moms of all ages with children of all ages. For more information on Dotcoms For Moms, please visit http://www.dotcomsformoms.com.
A veteran television producer of top-rated entertainment and lifestyle programming at E!, Discovery, Travel Channel, TLC, and HGTV, Mauceri is a published author of two style books, "Frumpy to Foxy in 15 Minutes Flat" and "Curves Rules and Flat is Fabulous: Sexy, Stylish Looks for Every Figure," and is best known online for her highly-read weekly entertaining and style columns on Yahoo!, Foxy Festivities and The Foxy Life.