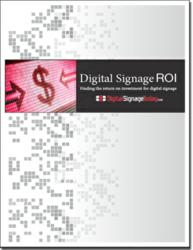 Return on investment is one of the most important decision factors in a growing industry like digital signage.
Louisville, Ky. (PRWEB) March 30, 2012
DigitalSignageToday.com, the daily news and information portal devoted to the digital out-of-home advertising industry, has just published the 2012 edition of its report Digital Signage ROI: Finding the Return on Investment for Digital Signage.
The 52-page report uses the latest revenue data from the U.S. Census Bureau and takes into account such variables as number of screens, maintenance and personnel costs, advertising income, print reduction, content loop and dwell time to generate detailed cost and benefit analyses for different retail business types and sizes. For instance, the report calls out important differences in digital signage ROI for 10- versus 100-unit convenience store chains, small clothing retailers vs. national apparel retailers in malls and so forth.
In each of 20 business case studies presented in the report, readers see where the money goes and how long it takes before digital signage investments break even and move into the black. The report details all assumptions and also provides a thorough — yet easy-to-understand — overview of both hard and soft ROI concepts in digital signage.
"Return on investment is one of the most important decision factors in a growing industry like digital signage," says Christopher Hall, editor of DigitalSignageToday.com. "If companies are to invest in digital signage technology, they need to feel confident it will deliver tangible returns, monetary or otherwise, that justify the expense. We hope this report helps digital signage companies to convince potential deployers that this fast-growing advertising channel can and does deliver ROI."
The report is priced at $497 and available immediately.
ABOUT DIGITALSIGNAGETODAY.COM
DigitalSignageToday.com is the premier online destination for consumer marketing and retail executives seeking to differentiate their brands in bold ways and to form strong connections and brand impressions with customers. With a mission of being a one-stop information resource for the digital signage and digital out-of-home (DOOH) industries, DigitalSignageToday.com covers hardware and software innovation, advertising concepts, content creation and management, networks, customer experience, program management and performance/ROI delivery and measurement. Coverage also dives deep into such leading vertical end markets for digital signage as entertainment, retail, restaurants, healthcare, transportation, travel, sports and much more.
ABOUT NETWORLD MEDIA GROUP
Founded in 2000, Networld Media Group is a leading business-to-business (B2B) media communications company specializing digital media, associations and events in the mobile, self-service, digital signage, retail, food service and financial services industries. Media properties published by Networld Media Group include: ATMmarketplace.com, DigitalSignageToday.com, FastCasual.com, KioskMarketplace.com, PizzaMarketplace.com, QSRweb.com, RetailCustomerExperience.com, SelfServiceWorld.com and ChurchCentral.com.
###