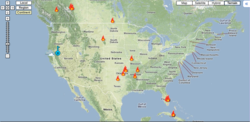 Dunsmuir, CA (PRWEB) March 29, 2012
In 2010, FireWhat Inc. was founded to bring innovation to a technology-deprived industry. The team developed professional and corporate partnerships with NASA, Weather Underground, the Disaster Management Institute at Carnegie Mellon University, Microsoft, and IBM. Collectively, the FireWhat Inc. team created an iOS app to accurately map wildfires across the nation and provide the most up-to-date fire information available. FireWhat developed and released the app Wildfire Pro last October. They soon realized this app could be a useful tool not only to firefighters, but everyone. People need emergency information immediately, and rightly so if there is an emergency in their backyard.
With all of this in mind, FireWhat designed a free iOS app called Wildfire Info for the 83 million civilians residing in the ten states that receive the most fire activity, according to US Census and the National Interagency Fire Center data. These states are devastated each year by costly fires and natural disasters. FireWhat has created the ability for citizens to see current fire perimeters and track smoke travel, along with critical information about a fire's size, spread, and location.
Also being released from FireWhat is the Wildfire Home App, which includes additional fire information such as cost, expected containment date and evacuation notices. In addition, the homeowner is presented with guides to follow for preparing a house in case of a wildfire emergency, and step-by-step instructions on what to do in the event of a wildfire. The Wildfire Home App will be available for $1.99.
About FireWhat Inc.
FireWhat Inc. is a start-up company based in Dunsmuir CA, founded by an MIT grad and two professional firefighters. FireWhat's mission is to bring life saving innovation to a technology deprived industry.