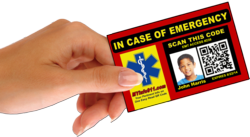 Palm Coast, Fl. (PRWEB) March 31, 2012
Every year millions of children are injured participating in school sports. Myinfo911 has developed state of the art emergency ID products to insure first responders have instant access to the victim's medical history allowing them to provide care to the child that is both timely and correct.
MyInfo911 shares the belief that participation in school sporting activities has a myriad of positive benefits for students, many they can carry throughout their lifetimes. Physically, these activities develop strength, fitness, and stamina, while psychologically they develop self esteem, confidence, and a sense of belonging.
As rosy a picture as this is, Myinfo911 discovered that the most serious downside of sports participation is accidents. According to National Safe Kids Campaign and the American Academy of Pediatrics, MyInfo911 found out that over 3.5 million children aged 14 and under, get hurt each year participating in sports, which account for almost 40% of all sports related injuries treated in hospital emergency rooms.
MyInfo911 decided early on that children would be an important group to consider in the development of its state of the art emergency ID cards and related products. Parents are often not present when an emergency occurs, and the vast majority of school authorities are just not prepared to provide first responders the critical medical information on all the children in their charge, let alone in the shortened timeframe required in a medical emergency situation.
Myinfo911 ID cards, stickers, keychains, and other products utilize the Quick Response (QR) code, that when scanned by an ordinary smart phone, allows emergency personnel virtually instant access to the child's medical history, including blood type, allergies, medications, and special conditions. Armed with this information first responders can provide care to the victim that is both timely and accurate. Without this information, regardless of good intentions, first responders can often do more harm than good.
Scanning the MyInfo911 QR code also instantly alerts the child's next of kin of a possible emergency situation and can even help direct them to the site of the accident or the location of the facility that the child is going to be taken for further treatment.
MyInfo911 Emergency ID card and products afford parents, teachers, coaches, and other caregivers an affordable, easy, and effective way to provide children in their care this extra protection while providing themselves with added peace of mind.
About MyInfo911
Started in October 2010, MyInfo911 provides emergency identification cards that use QR codes to provide pertinent medical history information to first responders and other medical providers. The Palm Coast, Florida based company's cards have the person's picture, name and QR code on the front and the person's name, year of birth, emergency contact, blood type, allergies and specific medical conditions on the back. For more information visit http://www.myinfo911.com.