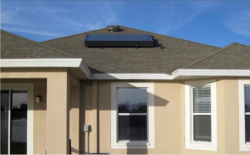 It is a pleasure to help Habitat build homes with lower electric bills for these hardworking families," said Wayne Wallace, President of Solar Source.
Largo, FL (PRWEB) March 30, 2012
Solar Source recently secured their second contract with Habitat for Humanity of Pinellas County. The solar contracting company will install 15 solar water heaters on new homes in Pinellas County to help Habitat homeowners reduce their electricity bills.
This new contract will bring the total number of systems that Solar Source has installed for Habitat of Pinellas up to 30. In 2011, Solar Source installed 15 systems for the non-profit.
"It is a pleasure and an honor to help Habitat build homes with lower electric bills for these hardworking families," said Wayne Wallace, President of Solar Source. "Solar water heaters are a cost-effective way to work toward their mission of building sustainable, energy-efficient, healthy housing."
The homes will be outfitted with passive solar water heaters, also called domestic hot water (DHW). The system uses a solar collector to harness the sun's energy to heat water, which flows into a storage tank. The pre-heated water greatly reduces the demand for electricity.
The solar thermal units are expected to save the homeowners up to 85% off the hot water portion of their electricity bills, or about $45.00 per month. Replacing a traditional water heater with a solar powered system will reduce more than 40,000 pounds of CO2 emissions over 20 years.
Solar Source (Constructive Resource, Inc. dba AAA Solar Source) is a licensed solar contractor (CVC056646) specializing in residential, commercial and industrial projects including Photovoltaic (PV), solar pool heating, domestic water heating (solar hot water), attic ventilation, and more. Solar Source installs systems for commercial businesses, government facilities and schools across North America and has over 30,000 residential customers in six counties across the Greater Tampa Bay area. Solar Source installed the first roof top megawatt PV system in Florida and a 1,200 panel solar array at Naval Station Guantanamo Bay. Solar Source completed a large domestic water-heating project for Walt Disney World in Orlando, FL and has heated the pools for the Olympic Games in Atlanta in 1996 and Athens in 2004. Solar Source is the founding entity of Solar Source Institute, a licensed educational facility that provides solar training for the construction industry.
Habitat for Humanity of Pinellas County is a non-profit organization that trains volunteers and homeowners to build simple, affordable homes. Volunteers and the future homeowners construct the homes, which are sold at no profit and financed with a zero-interest loan. Since 1985, Habitat for Humanity of Pinellas County has constructed 240 homes for struggling families in Pinellas County, using locally raised funds. Habitat Pinellas homeowner candidates earn 30 to 80 percent of area median income. For Pinellas County, that translates to as little as $17,800 a year for a family of four. Candidates must also demonstrate need for adequate shelter; ability to pay back a zero-interest loan and willingness to partner with Habitat Pinellas to invest 250 to 350 sweat equity hours. Mortgage monies are used to build even more homes, making each donation to Habitat a perpetual legacy to the community.