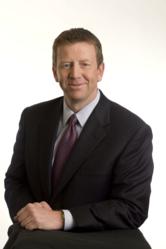 Jersey City, N.J., (PRWEB) March 30, 2012
Peter Dorsey has been named the new managing director of institutional sales for TD Ameritrade Institutional, a division of TD Ameritrade, Inc.1 ("TD Ameritrade"). Dorsey will oversee all institutional sales functions including advisor recruitment, practice management consulting, relationship management and sales strategy for TD Ameritrade.
Dorsey has been with TD Ameritrade Institutional for more than seven years, most recently serving as director of sales where he was responsible for the oversight and management of TD Ameritrade Institutional's business development activities within the Western region of the United States. He has been working in the institutional field, specifically with independent registered investment advisors (RIAs) for nearly 15 years. Prior to joining TD Ameritrade, Dorsey served in similar roles in banking and brokerage industries. He replaces Tom Nally, who previously held the position and was recently named president of TD Ameritrade Institutional.
"Pete's strong leadership abilities, industry experience and a continued commitment to serving the needs of RIAs make him the ideal choice for the position," said Tom Nally, president, TD Ameritrade Institutional. "Pete has a proven track record for leading successful teams at TD Ameritrade Institutional and I am excited to have him on board to head our sales efforts as we look forward to continued growth."
Dorsey received a Bachelor of Arts degree in Economics from St. Anselm College and a Master of Business Administration from Pepperdine University's Graziadio School of Business and Management. Dorsey also holds FINRA series 7, 63 and 24 licenses.
About TD Ameritrade Institutional
TD Ameritrade Institutional is a leading provider of comprehensive brokerage and custody services to over 4,000 fee-based, independent registered investment advisors and their clients. Our advanced technology platform, coupled with personal support from our dedicated service teams, allows investment advisors to run their practices more efficiently and effectively while optimizing time with clients.
About TD Ameritrade Holding Corporation
Millions of investors and independent registered investment advisors (RIAs) have turned to TD Ameritrade's (NASDAQ:AMTD) technology, people and education to help make investing and trading easier to understand and do. Online or over the phone. In a branch or with an independent RIA. First-timer or sophisticated trader. Our clients want to take control, and we help them decide how - bringing Wall Street to Main Street for more than 36 years. An official sponsor of the 2012 U.S. Olympic Team, TD Ameritrade has time and again been recognized as a leader in investment services. Please visit the TD Ameritrade's newsroom or http://www.amtd.com for more information.
Brokerage services provided by TD Ameritrade, Inc., member FINRA (http://www.FINRA.org) /SIPC (http://www.SIPC.org) /NFA (http://www.nfa.futures.org)
For the latest TD Ameritrade Holding Corporation news and information, follow the Company on Twitter, @TDAmeritradePR.
1TD Ameritrade Institutional is a division of TD Ameritrade, Inc., a brokerage subsidiary of TD Ameritrade Holding Corporation.