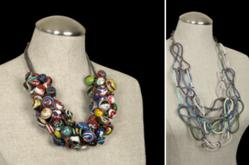 "For Spring 2012 I am thrilled to introduce this unique line of jewelry featuring colorful necklaces, bracelets and earrings constructed from recycled plastic, giving women more sustainable fashion choices." Said Jenne Rayburn, jewelry designer
Boston, MA (PRWEB) March 30, 2012
Many women are trying to live a green lifestyle by consuming less, and are looking for ways to dress up and to give gifts that are not at the expense of the environment or the artists who make them. For Spring 2012 Jenne Rayburn introduces a complete line of eco-friendly designer jewelry made from recycled plastic reclaimed from plastic shoes.
Jenne came up with the idea for the collection after working on an interior design project for a shoe company. "I started to think a lot about the issue of recycling shoes," said Jenne Rayburn, a metalsmith and the collection's creator. "The number of shoe prototypes made every season for the review and testing of shoe designs is huge, and I started to collect old shoes and think abut how they could be repurposed to satisfy a functional need in an interior space." That research process fortuitously lead to an idea for contemporary accessories, related to Jenne's jewelry business, Jenne Rayburn Handcrafted Jewelry and Wearable Art. "I was looking for recycled shoes everywhere I went, and was thrilled to discover materials made from recycled plastic shoes, by women in Djenné, Mali."
Pressed and twisted, then cut and woven, Jenne Rayburn constructs the plastic bits into multi-dimensional shapes, strung together using brass wire, to create dynamic jewelry accessories. These statement necklaces repurposed from recycled plastic are an accessory that instantly updates your ensemble, while keeping plastic out of our oceans and landfills. Conscientious and fashion savvy shoppers now have a another great option to support conservation.
Jenne Rayburn's designs incorporate colorful loops, in light fresh spring colors, into full and fluid draping necklaces. Available in warm and cool color pallets that coordinate with a woman's personal coloring and compliment their natural features. Necklaces crafted from plastic buttons, swirled with a rainbow of color, look like a string of vibrantly swirled marbles. "Women often plan their wardrobes around their jewelry," said Jenne Rayburn. "As you go from day to night, or from work to leisure, these bold contemporary accessories are a fashion asset that can always make you look and feel fabulous, and this jewelry also has a positive message." The dramatic combination of texture, form, and color creates a sumptuous necklace. Jenne recalls that "I knew I was on to something when, every time I wore my necklaces people stopped to ask 'where did you get that?'"
Each unique jewelry piece is individually designed so no two are alike, with prices starting at $38 for earrings and $78 for a single strand necklace. Visit the entire collection of recycled plastic jewelry online, and view her other collections at http://www.jennerayburn.com
About Jenne Rayburn:
Jenne Rayburn is a Boston-based jewelry and textile artist who also studied interior design and architecture, and her work evolves from the overlap between architecture, design, technology and art. Jenne is known for her designs made from reusing vintage textiles, findings and components, found while foraging in antique shops and vintage markets. A graduate of the University of Washington where she studied metalsmithing and fiber arts, and of the University of Massachusetts, Amherst with a MS in Design, Jenne has been designing jewelry and apparel for over 20 years. Perpetual curiosity and a passion for experimentation resulted in her first jewelry collection made from etched copper and brilliantly colored enamel. Since then Jenne has created six unique collections that combine careful workmanship with unique materials and designs. It is her hope that the wearers of her pieces find joy in a delightful artistic statement, and also something that enhances their individuality and confidence. Her work is carried in local galleries and online. Please visit http://www.jennerayburn.com for Jenne Rayburn's online flagship store. For wholesale information, please visit http://www.jennerayburn.com/wholesale.com
###