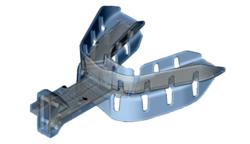 "We are pleased to receive FDA 510 (k) clearance to market MATRx in the United States with our partners at SomnoMed." says Paul Cataford, Zephyr's President & CEO
Frisco, Texas (PRWEB) March 29, 2012
SomnoMed Inc (SomnoMed) is pleased to announce that Zephyr Sleep Technologies Inc. (Zephyr) have been granted 510(k) clearance from the U.S. Food and Drug Administration (FDA) to begin selling the MATRx medical device system.
The MATRx system will be used in sleep laboratories to identify patients that will be successful with oral appliance therapy while establishing the protrusive position of the lower mandible for effective therapy. "The MATRx system changes the way oral appliance therapy is prescribed, bringing the knowledge and expertise of both Sleep Physicians and Dentists into the therapy decision much earlier. This new technology will certainly change how things are done" says Paul Cataford, Zephyr's President & CEO.
A MATRx study is performed in a sleep laboratory by a sleep technician in conjunction with a polysomnographic study ("PSG test"). Using this new technology Sleep Physicians will, for the first time, be able to reliably predict the effectiveness of oral appliance therapy as a treatment for obstructive sleep apnea patients. This clears the way for Sleep Physicians to confidently prescribe oral appliance therapy in advance of patients being fitted with an oral appliance. MATRx also provides Sleep Dentists with an effective target protrusive position for the lower mandible.
This enables dentists to fit oral appliances with confidence in therapeutic outcome while eliminating the need for an iterative titration process that previously could take weeks. "Understanding a patient's airway response to mandibular protrusion is a critical component of confidently prescribing and administering oral appliance therapy. The MATRx study offers many features that are comparable to and commensurate with the traditional continuous positive airway pressure study ("CPAP study"). In fact, the two studies can now work hand-in-hand to optimize sleep apnea management." says Zephyr's Chief Medical Officer, Dr. John Remmers.
In Dec 2010, Zephyr signed an exclusive worldwide distribution agreement with SomnoMed Limited to market and sell this device under the name SomnoMed MATRx. SomnoMed® is planning a limited U.S. market release of MATRx to select hospitals and private clinics that will be the first to use is system, after which the MATRx will be available to a broader customer base and introduced in international markets. "This is very exciting news for the sleep medical community. Finally with SomnoMed MATRx it is possible to diagnose and predict treatment response with the SomnoDent therapy. In particular of importance for non-compliant CPAP patients. Since the pre market launch in Minneapolis last year and in several international congresses in Japan, Australia and Germany the number of enquiries never stopped. With MATRx we are expecting the number of referrals for a SomnoDent therapy to increase significantly over time. " says Ralf Barschow, CEO SomnoMed.
"We are pleased to receive FDA 510 (k) clearance to market MATRx in the United States with our partners at SomnoMed. This important milestone reflects Zephyr's commitment to innovation in the field of sleep medicine with a focus on developing products that improve the clinical effectiveness of oral appliance therapy. Zephyr has a number of other technologies in development and we are excited about the future releases of these products" says Mr. Cataford.
ABOUT ZEPHYR
Zephyr is a privately held medical device company that researches, designs and develops products and technology to both monitor and analyze sleep performance and treat some sleep disorders. MATRx was developed by Zephyr and is based on and powered by the proprietary and patented technology known as OATRx. Zephyr is based in Calgary, Alberta.
ABOUT SOMNOMED
SomnoMed, Limited is the world's leading dental sleep medical company with expanding operations in North America, Europe, Asia-Pacific and Japan. As the Gold Standard oral sleep apnea appliance, the SomnoDent® offers a clinically proven, effective and patient compliant alternative treatment for the majority of patients experiencing mild to moderate Obstructive Sleep Apnea (OSA) – for non-compliant and existing CPAP therapy patients looking for improved treatment comfort and compliance.