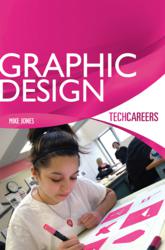 This book provides readers with the tools they need to launch a career in graphic design.
Waco, TX (PRWEB) March 30, 2012
Evidence of graphic design professionals exists everywhere, but what does it take to be one? The TechCareers: Graphic Design ebook, released March 15, provides that information and more as it seeks to give insight into the prominent industry of graphic design. The print version is set for an April 1 release.
Author Mike Jones delves into the centuries-old career of graphic design in this new release, as he gives insight into what the future may hold for the industry. This book provides readers with the tools they need to launch a career in graphic design.
TechCareers: Graphic Design includes sections on industry outlook, education and training requirements, job descriptions and salary ranges, a comprehensive listing of graphic design and printing programs in the United States, and additional sources for industry information.
Jones is a freelance writer based in Waco, Texas. Originally from New Mexico, he graduated from the University of New Mexico in Albuquerque with a focus in writing for theater and broadcast media. After working extensively in broadcasting, advertising and marketing, he moved to Texas to work as a writer and producer of instructional and student requirement videos for Texas State Technical college. Recently, he has been involved technical instructional curriculum research and development, in addiction to freelance writing and production. He also is the author of another TechCareers book: Wind Energy and the co-author of the TechCareers book, Radiation Protection Technology.
TSTC Publishing was established in 2004 as the publishing arm of the Texas State Technical College System. TSTC Publishing offers authors throughout the country the opportunity to initiate and participate in a variety of book development projects. TSTC Publishing projects now include such ancillary products as instructor guides, student workbooks, CD-ROMs, DVDs, ebooks and companion websites. In addition to offering editorial help and guidance to faculty, assistance also is available in the areas of materials production, distribution and sales.
The ebook retails for $9.99 and is available through Amazon and Barnes & Noble. The softback version will retail at $14.95 and be available from major book retailers including Amazon, Barnes & Noble or directly from TSTC Publishing.
For more information, visit http://publishing.tstc.edu.