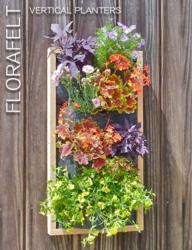 Houston, Texas (PRWEB) March 29, 2012
One Stop Green, LLC is proud to announce a new partnership with Plants On Walls.
Perfect for a location short on soil space, the Plants On Walls system takes gardening to a new frontier. Their line of products takes your horizontal garden and makes it vertical.
The Plants On Walls felt panels come in many different sizes and can be combined to cover almost any surface. This uniquely adaptable system can be used as an external vertical garden or brought indoors to add a splash of color to interior wall faces. There is even a stand-alone option with a water recirculator.
Using buildings, normally an inhospitable surface, for the next frontier of plant life has been shown to cool down cities by increasing the amount of green space and the increased plant life also reduces the amount of carbon dioxide in the atmosphere.
One Stop Green, LLC facilitates environmentally friendly improvements to residential and commercial properties through distribution of green, energy efficient products and services. They offer every product needed for sustainable energy independence enabling homeowners, businesses and commercial property owners to master their usage by reducing waste and implementing efficient energy consumption methods. Their goal is to provide user friendly and practical long-term solutions to existing inefficiencies and their carefully selected products and professional installers offer a higher level of satisfaction and service for their customers.
Contact:
Nathan Kaufman
http://www.OneStopGreen.com
P: 877.449.9110|O: 713.541.2739|C: 210.846.5900
###