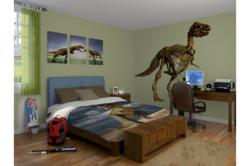 Owner Justin Poile says there is almost no animal theme that VisionBedding can not do
Pierre, SD (PRWEB) March 30, 2012
Although typical animal themed decor such as zebra or horses can be found in nearly any home decor store. VisionBedding offers new unique choices that are not typically found anywhere else such as bears, turtles, dolphins, whales, deer and other wildlife, even farm animals. The list and options are quite long and some of the more unique choices such as lizards and owls is among the most popular choices according to the owner of VisionBedding.
VisionBedding plans to keep expanding until the choices for each animal are endless. Currently the site has over 10,000 animal choices. Two of the most recent additions is flamingo and moose themes. Each of these choices can be personalized with your name or your favorite background color. A wide variety of products can be purchased with any of the animal themes from bedding to rugs, wall art to window curtains, and even baby options are available. One of the more popular choices is cut out wall stickers which gives a life-like animal that you can stick and remove on your wall making it easy to change up your room later on.
Look for more animal additions in the near future and VisionBedding also accepts new requests!
About VisionBedding
VisionBedding uses advanced production techniques to create over 15 million unique bedding and home decor items. Customers can choose from one of the company's designs or submit their own photos to produce a high-quality product that is made custom for each customer. The VisionBedding team of designers assists each customer in getting each order exactly right. For more information, visit http://www.VisionBedding.com.
"Note to editors: An earlier press release by VisionBedding misattributed comments to an A.T. Kearney study. Please disregard the A.T. Kearney study from any prior press released by VisionBedding"